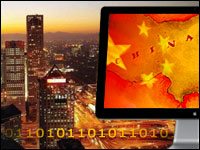 The Chinese government ordered Apple to shut down its iBooks and iTunes Movies services in the country, according to news reports published last week.
China's State Administration of Press, Publication, Radio, Film and Television reportedly called for the closure.
The government in February announced a policy banning all foreign media from publishing in China without direct approval. The crackdown was scheduled to go into effect in March, and the government reportedly informed Apple that it would have to adhere to the new rules.
Apple hopes to have its catalog of electronic books and films available to Chinese audiences as soon as possible, the company said.
Beijing Narrows Portal
China last year at the World Internet Conference warned of tighter restrictions. Governments must be allowed toexercise their sovereign rights with regard to the Internet, President Xi Jinping told attendees.
"Essentially all foreign governments supportive — read not critical — of China's desire to form a monitored and controlled Internet were invited to participate and sign up to the new Chinese world order of a safe and secure Internet," authorWilliam Hagestad II, who attended the conference, told the E-Commerce Times.
The shutdown of Apple's online films and books is a significant blow to the company, because Chinese smartphone users get a great deal of their entertainment and transactions through localized apps, most notably WeChat, according to Ryan Reith, program director for IDC's mobile device tracker suite.
The activity through WeChat includes everything from paying for taxis to gaming and news feeds, and Apple may have to go back to the bargaining table to get back into that market, he told the E-Commerce Times.
"I do think Apple will have to look into further cooperation, but I also know that the asks from the Chinese government can be somewhat ridiculous," Reith said.
Emerging Market
The Chinese market is considered critical to Apple's growth strategy. The company reported US$18.4 billion in revenue from greater China, which includes China, Hong Kong and Taiwan, during the fiscal first quarter of 2016, a 14 percent increase from the year-ago quarter. The increase was driven mainly by strong iPhone sales and partially offset by weaker currency in comparison to the U.S. dollar, according to Apple.
"From a macro level, this is consistent with the wider campaign launched by Xi Jinping cracking down on foreign cultural influence and increasing control and censorship of the Internet," said Larry Salibra, founder ofPay4Bugs.
Nobody can pinpoint why the Chinese government decided to crack down so hard on Apple's film and book library, but it may be a response to being embarrassed by the revelation that the Chinese government had sought Apple's source code, which the company refused to hand over, he told the E-Commerce Times.
"That Apple was able to refuse a request of the Chinese government without obvious consequence makes Beijing look weak to the domestic audience," Salibra said.
The Chinese government may have been looking to send a message to any company that stands up to its censorship policies, said Rob Enderle, principal analyst at the Enderle Group.
"China doesn't have an anti-Apple agenda, but there are a lot of books and films they don't want their citizens seeing, and if any firm refuses to censor those properties, China has a history of blocking the entire service," he told the E-Commerce Times.
However, citizens have found ways around Chinese Internet censorship, Enderle said, and they likely will find a way around the policy in this case.