I'm struck by the extent to which Apple and Tesla are executing a model very similar to IBM's. While IBM has evolved to put the customer at the center always, Apple and Tesla are nuanced in that respect, much like IBM was in the past.
I worked at IBM when it imploded in the early 1990s, so I think I can speak to what is in Apple and Tesla's future unless they learn the easy way what IBM learned the hard way: that the customer is always king, and mining a locked-in customer base to increase revenues and reduce costs will virtually always end badly.
The question isn't if — it is when, and calling the "when" has a lot to do with how much pain a customer is willing to endure before becoming disloyal.
I'll dig into that this week, and then close with my new favorite smartwatch, the new Generation 5 Smartwatch from Fossil. The Apple watch finally has a real competitor.
IBM's Lesson
Customers are uniquely loyal to IBM's mainframe, Apple's iPhone and Tesla's cars. In many ways, these three companies have been pulling from the same business model. Wrap the customer with services, provide a very differentiated platform, and resource a level of customer care unique in the segment.
Back when I first started with IBM the saying was, "No one ever lost their job choosing IBM." It was an employer for life, with incredibly strong benefits and pensions but weak salaries.
Working on the model largely created by Thomas Watson Jr., IBM was the leading trusted partner and dominated the information technology industry. Its products weren't the cheapest or the highest-performing, but the company provided the best customer care and earned the greatest customer loyalty in its segment.
This strategy was, in effect, IBM's golden goose, and it also locked in its customers and locked out competing vendors. IBM leased rather than selling its hardware. The result was a symbiotic relationship between IBM and its customers that made the company almost impossible to beat, given its massive economies of scale at the time.
This level of power and exclusivity led to bad behaviors. IBM's quality dropped and its innovation dropped. With its market saturated, it started to rely on price increases and questionable service charges to fuel its bottom and top lines. IBM thought it was selling air and that customers couldn't move. Customers, nearly en masse, disabused them of that notion with a vengeance.
IBM changed, and the brand went from being worth billions to being worth less than nothing. Its massive brand decline was called "negative brand equity," which meant that given a choice, a customer would pay more for a white box (unbranded product) than one with the IBM brand.
Something I was reminded of the other day is that today's IBM has most of the good and virtually none of the bad, but it isn't massively dominant either. It is aggressively open source, it embraces interoperability, and its mainframe (System Z) folks embrace customers much like they did before. However IBM is also aggressive on pricing, it doesn't mine customers for money, and it places those IT customers at the center of the IBM world. In the IT space, IBM once again enjoys what arguably is the strongest IT advocacy in the segment.
The only thing it probably should do more of is remind customers how well they have it so that the green-looking grass on the other side — which isn't greener — doesn't appear greener either.
Apple and Tesla
Apple and Tesla are very similar to the old IBM, except for the employee-for-life thing. Both firms fully embrace their customers and provide unique and powerful customer experiences.
Apple, through the Apple Stores and places like the Best Buy store within a store, provides a level of customer care that no other smartphone company comes close to matching. As for Tesla, if you have a problem, it drops off a loaner car when it takes your car (you don't have to go to a dealer), and you even have the option of trading up to that loaner car if you want to.
Both companies provide a deep set of unique services for their products. Tesla has software updates that have fun new features for the owners to discover so that, uniquely, software updates are anticipated rather than dreaded. Like IBM, Apple owns most of its technology stack (the closest thing in the market likely is the Microsoft Surface).
The firms are very proprietary; they don't interoperate well. Tesla chargers don't work with other electric cars, and the new DC direct chargers won't work on Teslas, for instance. On Apple's side, its watch works only with an iPhone, and it partners so badly that its channel outreach efforts with Cisco and IBM largely appear to have failed.
Tesla can't seem to stay profitable, and Apple's sales volume is sliding so badly it has decided to stop reporting sales volume and instead report revenue and profit. This is because it so far has been able to raise income by mining its customer base for money. That will only work for so long before those customers are likely to rebel, as IBM discovered.
Wrapping Up: IBM Sets Better Example
Apple, IBM and Tesla have similar customer-centric strategies. However, IBM has learned that this model works best if the customer remains the focus of the effort, not profits or revenue. The other two firms don't have this focus.
Tesla, the most at risk, has started to decline. Instead of being more and more profitable, Tesla has been struggling to find a profit. Apple has been avoiding decline only through pricing actions, but its customers aren't unlimited sources of money any more than old IBM's customers were.
To ensure their success, both Apple and Tesla should take a harder look at how IBM runs its System Z business and holds customer loyalty and satisfaction largely by resisting the temptation to mine customers and instead making customer loyalty and satisfaction its primary goal.
Much like I felt about IBM when it crashed, I think Apple and Tesla are worth saving; I don't think their leadership get that the model both are using is badly flawed, and that there is a far better way to ensure their futures. Ironically, the company both firms likely got the model from has changed the model, and Apple and Tesla should be using the new one.
It continues to amaze me how many highly paid executives seem to want to learn by doing instead of learning from others, but that is the world we live in, unfortunately.

Speaking of Apple, it still has the best smartwatch in the market. However, because it works only with the iPhone, doesn't look like a watch, and has a name that doesn't fit within the Steve Jobs' "iProduct" format, it is falling short of expectations.
Still, locating another smartwatch that is even close largely has been impossible until now. The new Gen 5 Smartwatch from Fossil, finally, is a real competitor to the Apple Watch. What it adds over the fourth generation is longer battery life and the ability to answer the phone from the watch. This latest version is faster, and it does a better job with the Google Assistant than the fourth-generation product did.
---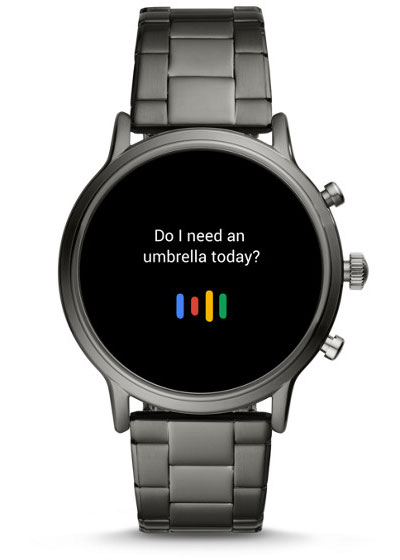 Fossil Gen 5 Smartwatch
---
Advantages over the Apple Watch include that it works with Android AND iOS, it looks like a watch, it is less expensive, and it has more battery life. It doesn't have the deep medical features of the Apple Watch or the depth of apps. Nor does it have the deep support that Apple provides its products. Oh, and there is no version with 4G support as yet, but it does have WiFi, so there is limited connectivity if you've left your phone behind.
I now wear two Fossil watches — this fifth-generation watch during the day and the fourth generation at night for sleep tracking. The longer battery life means I get a full day on the fifth-generation watch. Getting this watch was like Christmas in August, so the Fossil Gen 5 Smartwatch is my product of the week.