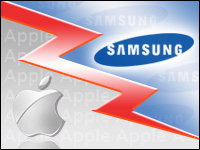 Apple and Samsung have set a date on which they'll attempt to iron out their differences in a patent dispute that's headed to trial in March.
The companies have agreed to meet before a mediator on Feb. 19, according to a document filed with a federal district court in California, to discuss a settlement of their differences over some smartphone patents that Apple claims have been violated by Samsung.
Samsung lost a previous patent lawsuit by Apple and is on the hook for US$930 million in damages in that case, which it has appealed. The lawsuit in March deals with another set of patents and newer Samsung products, including the Galaxy S3.
Samsung's latest high-end smartphone model, the Galaxy S4, isn't included in that litigation.
This isn't the first time Apple and Samsung have been prodded by a judge to sit down and talk out their differences. In May 2012, the companies held a fruitless mediation session before the patent case lost by Samsung went to trial. In August of that year, the companies sat across the negotiation table again in a last-ditch effort to come to an accommodation before the jury in that case handed down its verdict.
Serious Negotiations
The February negotiations between the tech titans will be attended by Apple CEO Tim Cook and Samsung's CEO Oh-Hyun Kwon along with in-house counsel from the companies, according to the court filing.
"If the CEOs are involved, that tells me the meeting is serious; when you add to that outside counsel is not there — it's inside counsel — that suggests this is coming from the business people rather than the lawyers, and there's some real motivation to work this out," Mark McKenna, a professor of law at Notre Dame Law School, told the E-Commerce Times.
Who attends a mediation session is often a tip-off of how seriously parties are taking the process.
"A lot of times parties ordered by the court to undertake mediation think it's a waste of time," David Newman, an attorney with Arnstein & Lehr, told the E-Commerce Times.
"In those instances, just the outside lawyers and some low-level business person attends," he continued. "The fact that CEOs and in-house attorneys are attending this meeting makes me think they're taking this seriously."
Samsung declined to comment for this story. Apple did not respond to a request for comment.
Patent Uncertainty
No one knows if the February meeting has any more chance of success than the previous two, but much of the heat between the two companies appears to have abated somewhat. Moreover, market conditions may play more of a role in next month's negotiations than they did in the first trial.
"The PR wars are winding down, and both companies are also feeling a slowdown in sales," Michael Lasky, a patent attorney with the Altera Law Group, told the E-Commerce Times. "Perhaps that has made the prospect of getting back to business a bit stronger."
Another development that could contribute to a settlement between the sides is growing uncertainty in the patent field.
"There's more uncertainty about how the courts will view patents in the future," A. Christal Sheppard, an assistant professor of law at the University of Nebraska College of Law and a former chief patent and trademark counsel for Congress, told the E-Commerce Times.
For example, a case currently before the U.S. Supreme Court, CLS Bank International v. Alice Corp, could significantly impact the merits of any patent for any computer-implemented invention.
"If those patents fall away, it could be a problem for both companies," Sheppard said. "The uncertainty in the patent community generally may give them more reason to go ahead and settle this."
Battle Fatigue
Apple and Samsung have been in bitter battle over patents for several years now, which may be another reason the pair may want to call it quits.
"My suspicion is they have both realized how many resources they've been devoting to this fight and that maybe those resources could be better served doing something in their businesses," Notre Dame's McKenna said.
"There's definitely public fatigue," added Sheppard. "There's a lot of money going into this, and it's not a profit center, only a financial drain.
"These companies can afford these lawsuits, but they have more important things to do, especially given the current climate where things are changing so quickly that patents have little value other than to sue people in court," she said.
If the latest round of talks between Apple and Samsung can't solve their differences, a higher authority may be needed to sow peace between the firms, Darren Hayes, an assistant professor at Pace University's Seidenberg School of Computer Science and Information Systems, told the E-Commerce Times.
"Given the notoriety of these ugly disputes, if these negotiations fail, perhaps we might see another beer summit in the White House Rose Garden," Hayes suggested, "with the U.S. President, CEO Tim Cook and CEO Oh-Hyun Kwon trying to resolve their differences in a less formal manner."