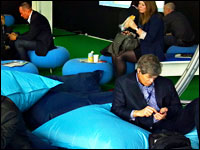 Even when Darien Gold's pilates clients aren't in her studio, they can work on their moves by following the instructions and imitating the positions on her mobile app.
Gold uses the app to expand the reach of her business, according to Bharath Lingam, CEO of PurpleTalk, which worked with Gold to develop her app.
"Having a well-thought-out mobile app means being able to be in touch with all your consumers 24 hours a day, 365 days a year," Lingam told the E-Commerce Times. "This is extremely powerful in terms of your ability to collect analytics and feedback based on consumer behavior, be able to enable better brand engagement with your paying customers, create a differentiated consumer experience based on their purchasing patterns, and implement offers, discounts and high-quality loyalty programs. It makes all the difference between being the leader in your business or having a journeyman-like business."
Phone It In
Smartphones are, increasingly, the primary way by which people connect with each other, and one of the best ways to facilitate this connection is through apps.
"Ten years ago, it was possible to walk into a major electronics retailer and purchase a personal computer for thousands of dollars, and that same computer, by modern standards, is eclipsed by the average smartphone," Dmitry Goroshin, CEO of Multichoice Apps, which designs iPhone, iPad, Android and Blackberry apps for businesses, told the E-Commerce Times.
"Smartphones and tablets are rapidly becoming the weapon of choice for individuals interested in accessing the Internet," said Goroshin. "If a small businesses is interested in acquiring customers through online advertising, it is imperative that this business develops and implements an application representative of its products."
In order to be effective, apps must facilitate portable interaction in unique ways.
"A well-designed application allows a business to directly interact with customers and is a wonderful opportunity to exercise marketing strategies that were once the exclusive domain of focus groups," explained Goroshin. "As the personal computer is redesigned again and again, it will only become more portable — and applications are the modern embodiment of portability."
In fact, direct interaction with customers is more valuable than any direct selling that app might do.
"Small business apps are getting the most return when they focus on increasing their customer loyalty and interaction," Andy Dalton, president of My Mobile Fans, which markets an app-development platform as well as custom-made apps, told the E-Commerce Times. "If all they think about is creating direct revenue from the app, then they are completely missing the point."
"Having customers interact with your brand anywhere they go from the palm of their hand via photos, coupons, message boards, videos, social, etc. is so much more beneficial in the long run than worrying about if the business was able to bring in x amount of direct revenue from the app," said Dalton.
App Branding
Apps are all about branding — creating an identity for a business that will be present whenever customers look at their phones.
"Mobile apps are really the next generation in branding," said Dalton. "Twelve to 15 years ago, if a small business didn't have a website, then many wouldn't consider it a legitimate business. The day is coming when the same will be true of not having a mobile app for many industries."
Some of the interactive features that are becoming commonplace in mobile apps, according to Dalton, include GPS check-ins, QR code coupons, event calendars, photo viewing and sharing, fan walls, and push notifications. Businesses also expect to be able to update their apps easily and frequently.
"The other trend right now for small business apps is the need to manage the content in the app and make live changes," said Dalton. "A small business can't afford to wait the four weeks that it currently takes to update information in their iPhone app. So they will need a solution that integrates with an external CMS. That CMS needs to be user-friendly and still produce quality graphic design."
Luring and Hooking
Well-designed, content-filled apps can also play a role in attracting customers to a business in the first place.
"Increasingly the trend is to create some popular and high-quality apps in a particular niche relevant to the business," said Lingam. "For example, for a popular Italian restaurant, it makes a lot of sense to release an app that compiles several hard-to-find Italian recipes, or host interviews with their chefs. People searching for apps related to the cuisine will download it and discover the restaurant."
Once they've been hooked, customers generally want to engage with a company, and apps provide an opportunity to do that, as well.
"In the engage phase, the application is frequently updated with content that increases the understanding of the customer of the local outlet, its services, reviews etc.," said Lingam. "Care should be taken so that the consumer is provided only those updates and information that one finds interesting and meaningful. Relentless proportion can have obvious negative effects. The consumer can be sent some interesting offers his or her way so that finally the interest is converted into a commercial transaction."
Transaction is the next step, with apps facilitating actual purchases. And after that, apps can continue to expand and develop the relationship between a customer and a business.
"This includes implementing a solid loyalty points program on the app, sending promos and special offers, and rewarding behavior like sharing Tweets and Facebook updates about the experience at the small business outlet," explained Lingam.
Consumers, in other words, have a taste for apps, and businesses are wise to have at least one to meet that demand.
"This market is immense, and any business that doesn't have an app yet, needs one," Eric Mitchell Porat, CEO of YesToApps, told the E-Commerce Times. "Businesses are losing money if they don't have an app."