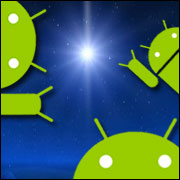 Android dominates the worldwide smartphone market, running on 75 percent of all smartphones shipped throughout the globe in the third quarter, IDC reported.
Samsung continued to hold sway over the Android market, but its market share slipped because of competition from a multitude of smaller vendors.
Apple's iOS came in a poor second, shipping on 26.9 million smartphones in Q3 2012. That gave iOS a 14.9 percent market share for the quarter.
Google's Runaway Mobile OS
Total Android smartphone shipments grew 91.5 percent in the past year, IDC reported. That's nearly twice the overall market growth rate of 46.4 percent.
In all, 136 million of the 181.1 million smartphones shipped worldwide in Q3 2012 ran Android.
More Android smartphones were shipped in Q3 2012 than the total number of smartphones shipped in all of 2007, the year Android was first offered.
"The reasons Android's so strong are obvious — it has tons of vendors ranging from the really huge to the really tiny, there is no licensing fee, so vendors can put as much or as little money as they want into development, and you have models ranging from entry-level to the high end where you pay US$600 to $700," Ramon Llamas, research manager at IDC, told the E-Commerce Times.
"More phones are coming out on Android than any other OS, especially in the lower cost segments," Jim McGregor, principal analyst at Tirias Research, told the E-Commerce Times.
For example, Chinese vendor ZTE, which, along with compatriot Huawei was declared a possible national security risk in the United States, has become one of the top five smartphone vendors globally, primarily because of a surge in sales of lower-cost devices in emerging markets, IDC said.
No Strategy Change
The advent of Windows Phone 8 will see "a few more smartphone vendors taking Windows Phone 8 more seriously" but is not likely to lead them to change their strategy going forward, at least for now, IDC's Llamas suggested.
"The Android system will continue to grow because it's the closest thing we have to an effective open source platform," McGregor continued. "Android is being used in many other applications just to leverage the mobile ecosystem."
Samsung's Still the Android 800-Pound Gorilla
Samsung continued to lead the worldwide smartphone market, with more than 31 percent of worldwide market share, according to another IDC report. This is the first time a single company has held that much of the market in a single quarter since Q4 2009, IDC said.
The Korean company's shipments were more than twice that of archrival Apple's for Q3 2012.
Samsung's growth was fueled mainly by its broad, deep and refreshed Android portfolio, beginning with its flagship Galaxy S III smartphone and continuing through multiple mid-range and mass-market models.
The Galaxy S III has sold 30 million units, Samsung claims.
Meanwhile, another report, this one by Comscore, shows Samsung increasing its penetration in the U.S. market slightly between July and September, from 25.6 percent to 26 percent. LG came in second with 17.7 percent and Apple third with 17.5 percent, although Apple chalked up a 2.1 percent growth in market share during that period.
Is iOS Hurting?
Smartphones running iOS increased their market share by only one percent year over year, although shipments went up 57 percent year over year.
Reconciling that with the consumer frenzy surrounding Apple's iPhone launches is difficult, but the overall smartphone market has grown.
Further, statistics for market share and shipments "measure volume, not revenue or profit, and Apple constrains the supply of iPhones so they … can keep prices up," Rob Enderle, principal analyst at the Enderle Group, told the E-Commerce Times.
The shipment figures "represent what's sold to stores, not to consumers, so a lot of Android phones may go unsold or be sold at steep discounts to get rid of excess inventory," Enderle continued.