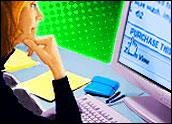 Almost lost in the hoopla over the announcement of Google's Android Honeycomb operating system for tablets was the search giant's unveiling of a new online store for apps for its mobile operating system.
The outlet allows consumers to hunt for Android apps through any Web browser running on any device. Previously, that could only be done through a device running Android.
When a shopper finds an app they want to run on their Android device — whether it be a tablet or a phone — they can buy it at the Web store and it will be downloaded automatically to their Android hardware.
In addition to the Web store introduction, Google also revealed that it was allowing purchases to be made from within Android apps, as well as better support for foreign currencies in its Android marketplaces.
Step In Right Direction
The Web store is "a step in the right direction" for the Android market, maintained Mark Beccue, an analyst with ABI Research in Oyster Bay, New York. He suggested that the Web store can help fill gaps in the existing Android ecosystem.
Unlike Apple, which pre-loads on all its mobile devices an app for accessing its App Store, the app for shopping in the Android Marketplace is left to the discretion of the device maker or the wireless carrier.
"The next big step for Android is to convince most of their partners to pre-load the Android Marketplace onto handsets, make sure it's on all of them," Beccue told the E-Commerce Times. "Then you're getting closer to leveling the playing field with Apple."
Tole Hart, a senior analyst with the Yankee Group, agreed. The new Web store "definitely improves the Android experience," he told the E-Commerce Times. "It also brings the service more in line with the iPhone and iPad experience."
Better Buying Experience
One complaint from developers about the Android Marketplace is that it's difficult to gain visibility there. That difficulty may be reduced with the new Web store. "It's much easier to search for and find applications through a convenient and fast Web client," Joshua Greenman, president of Mercury Development, an app developer for mobile devices in St. Louis, told the E-Commerce Times.
"It's easier to shop on a PC than it is on a mobile phone, so you get a better shopping experience," Yankee's Hart added.
Moreover, developers will have more space to tell their story in the Web store. "Google's known for giving Spartan information around things, but what they've done is give their app developers more room to show a lot more detail online," ABI's Beccue said.
The Android Web store also goes Apple one better when purchasing apps on the Web. If an Apple app is bought through a computer connected to the Web, the device for that app must be connected to the computer and the app downloaded into the device through a process called "synchronization."
With the Android Web store, a consumer associates an Android device with their account when they register at the store. "When you select an application from your desktop to be installed on your phone, it's automatically pushed through the cloud to your phone or tablet," Greenman explained.
"That's really convenient," he added. "Users don't need to worry about syncing or anything like that."
In-App Purchasing
A new feature added to the Android purchasing paradigm that's particularly attractive to developers is support for in-app purchases. That would allow a developer to offer an upgrade to a premium version of an app from within a free app, for example, or sell additional components to a game, like a new avatar.
"It's a very exciting additional revenue stream for app developers," Mercury Development's Greenman observed.
"I have people asking me all the time to develop in-app purchases for additional content, and now Android will offer the same functionality that Apple does," he added.
To capitalize on in-app purchasing, however, an Android device must support Android Marketplace. That may be another way Google hopes to encourage more pre-loading of the marketplace app on Android devices.