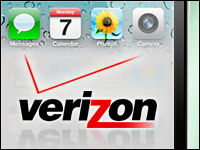 Watch today as Verizon Wireless sells its first Apple iPhone: The media will change its focus from writing positive stories to negative stories. Over the next several days and weeks, we will read startling pieces about what is going wrong. This is the same news we have been so thrilled with over the last few weeks. So why the change — and how long will it last?
We know this is what will happen, because this is what has happened following every launch by AT&T Mobility and Apple over the last several years. There are good and bad stories, but the media loves to find what's wrong and focus on it. It makes great stories. It's a build you up, then tear you down, then build you back up model.
This should be expected, so don't take it all too seriously. Not yet anyway. If the stories don't die down after a few days or weeks, then we can start worrying.
There Will Be Trouble
The question is, can Verizon handle the sudden and massive flow of new customers and wireless data demands? AT&T Mobility could not, and it has had years of experience dealing with Apple launches. What makes us think Verizon Wireless will do any better coming at this with no experience?
Every year, we see AT&T Mobility buckle under the massive Apple demand curve when the new iPhone is released. Even after that initial pressure eases up, AT&T still struggles in certain markets with unyielding wireless data demand on an ongoing basis.
It's not a bad problem to have, but it is still a problem that needs to be solved.
Verizon says it is ready; however, that's what AT&T says too. What will happen next with Verizon Wireless? We'll have to wait and see — but after watching the iPhone over the last several years, I think it's pretty obvious.
I expect Verizon Wireless will have some successes and some problems, and the problems are what the media will love to focus on first. Sure there will be positive stories, but for the first time, there will also be lots of negative stories.
The Honeymoon's Over
This is the day the media starts focusing on everything that is going wrong with the new Verizon and iPhone marriage. As we follow this story, we may begin to think these two companies are just bumbling idiots. These articles won't mention that the problem comes from an unbridled tsunami of orders suddenly appearing out of nowhere.
We have seen this year after year with AT&T Mobility as the next new Apple iPhone hits the market. The negative stories are not really an accurate representation, but they still get the spotlight for a while.
If we are smart we can get a chuckle over it, but we shouldn't pay much attention to it. That's just the marketplace reacting. When it gets pinched, it yells "ouch!" That's it at first. Makes great stories to cover. Nothing worse that that.
That's unless it is worse than that. Unless Verizon screws it up and users have problems on an ongoing basis. Then this becomes a real problem, and Verizon will have to rush to catch up to it.
However, watching the demand curve AT&T deals with, it never seems to catch up. Still, even with all these problems, AT&T Mobility still seems to win big with the iPhone and in the stock market — if not in the media or with customer satisfaction.
Now It's Game On
Even if Verizon has problems, I still think it will do fine financially. Customers want this. The only question is, will it be a good experience for Verizon Wireless?
Verizon better brace itself. It has worked hard to shine its Apple, but its system will likely choke in the early days as well, at least in some spots. And those are the points the media will focus on.
As I said, it's a good problem to have, but it is still a problem. There are lots of customers lining up in the early days. Some will have a great sign-up experience, and some won't. That is what will be focused on — and that will take some of the shine off Verizon's Apple.
Actually, I think Verizon may take some pressure off AT&T, and even its customers will have a better experience.
How many iPhones will Verizon sell? How many new customers will Verizon Wireless win? How much business will AT&T Mobility lose? What will be AT&T's next move to make up for the coming loss? How badly will AT&T be hurt? Apple will win either way. It will sell millions of devices through each player. There are so many questions we are keeping our eyes on.
Just remember, there will be a flood of negative and sometimes funny stories coming up. How long they will last is the question. We will all have to keep our eyes on it.
Congratulations, Verizon Wireless. The easy part is now over. Now comes the hard part of keeping up with insatiable Apple demand. Good luck!

In my Pick of the Week segment, I want to tell you about the Shriners Hospitals for Children in Tampa Fla., which just announced a 672 percent return on investment.
This was thanks to using MEMdata's medical equipment procurement model, Shriners said. This model ensures open access to new technology while it also achieves competitive pricing on all kinds of equipment in the hospital.
Way to go! Keeping medical costs down can only help. Who knows? Maybe our health insurance will come down… Naaa.