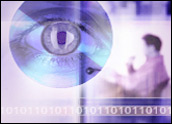 Americans are deeply troubled by surveillance, data collection and the security of their data that's held by government agencies and private companies, Pew Research has found.
The combined results of two surveys — one of 500 adults between August and September last year and one of 460 adults between January and February this year — suggest that the vast majority consider it important to be in control of who can get information about them.
Surveillance is a bugbear — 88 percent of the respondents didn't want someone to watch or listen to them without their permission.
Only 6 percent of respondents were very confident that government agencies could keep their records private and secure; another 25 percent were somewhat confident.
Also, only 6 percent of respondents were very confident that landline phone companies could protect their data, and 25 percent were somewhat confident.
Nine percent of respondents were very confident credit card firms would keep their data private and secure, and 29 percent said they were somewhat confident.
Got Data?
Only 9 percent of respondents felt they had a lot of control over how much information was collected about them and how it was used; another 38 percent felt they had some control; a further 37 percent felt they had not much control; and 13 percent felt they personally had no control at all.
Ninety-one percent of respondents to the mid-2014 survey said they had not made any changes to their Internet or cellphone use to avoid having their activities tracked or noticed.
Yet 59 percent cleared their cookies or browser history; 47 percent refused to provide personal information not relevant to a transaction; 25 percent used a temporary username or email address; and 24 percent gave inaccurate or misleading information about themselves.
"We know from earlier research that most people would like to do more to protect their privacy, but there are a variety of roadblocks for them," said Mary Madden, a senior researcher at Pew.
Obstacles include not feeling tech-savvy enough; believing their efforts won't be effective; and feeling that taking more effective action might make them appear suspicious.
There's a "sizable minority" of Americans who "are not terribly concerned about monitoring, and feel as though they have nothing to hide," Madden told the E-Commerce Times.
Beat It, Big Brother
Government surveillance is an issue. Seventy-four percent of respondents who had heard a lot about the issue said there weren't adequate limits on government collection of data.
Fifty-five percent of the respondents supported online anonymity for certain activities.
If Americans are so concerned about privacy and their data, then why don't they do more to protect themselves?
"Whenever we ask in our surveys how important security is, respondents say it's very important, but they tell us they're not willing to pay for it," said Jim McGregor, principal analyst at Tirias Research.
Further, consumers don't pay enough attention to what data they are giving up.
"People tell us in our surveys that security is really important. Then, when we ask what permissions they give mobile apps they load, everyone says they just OK it," McGregor told the E-Commerce Times. "Even executives in our [high-tech] industry don't look at the permissions."
The Usability Trade-Off
It could be that individuals, like corporations, are making a trade-off between security and usability. The fully secure system would be so laden with protections that access would be slow.
"Security versus logjam is a debate that continues to rage," said Mrton Ills, a product evangelist at BalaBit. "Sometimes trade-offs must be made."
Applying a security fix can result in "a serious usability or accessibility issue," Ills told the E-Commerce Times.
How Public Opinion Impacts Policy
Widespread public opposition has led to a number of recent developments.
United States lawmakers have aborted plans to table the Stop Online Piracy Act, or SOPA. Privacy advocates have sued the U.S. Drug Enforcement Administration for conducting warrantless surveillance on Americans' phone calls abroad. A desire to rebuild trust among Americans strongly influenced an amendment to the USA Freedom Act that passed in the U.S. House of Representatives last week.
A lawsuit brought by the American Civil Liberties Union led to a U.S. federal appeals court ruling earlier this month that the National Security Agency's bulk phone call metadata program was illegal. Several other lawsuits over digital rights and civil liberties are pending.