Amazon on Thursday launched Amazon Vehicles, a research and community site that will let users compare new and used cars, and shop for auto parts, among other things.
The site will let customers view everything from specs, images, videos and customer reviews of thousands of brand new to classic vehicles, potentially offering stiff competition to Edmunds, Kelley Blue Book and Autotrader.com.
Amazon Vehicles will take advantage of certain features that long have been a hallmark of the Amazon customer experience. For example, givein that Amazon customers often browse through thousands of customer reviews on a given product to make a purchase decision, the new site will include reviews from real car buyers. Customers also will be able to post their own questions, according to the company.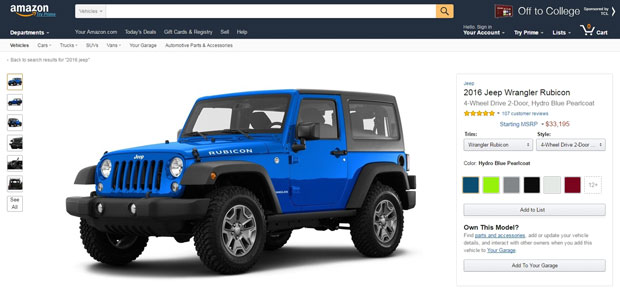 "More and more customers are turning to Amazon for researching products, and we're enabling that experience for vehicles, which is one of the most important, research-intensive purchases in customers' lives," spokesperson Lori Richter told the E-Commerce Times.
Advanced Automotive Research
Customers researching new and used cars will be able to sort criteria by make, model, year, mpg fuel efficiency, crash rating or customer rating, and other criteria.
The site works as an extension of the existing Amazon Auto Store, which allows customers to access the Amazon Garage, where customers can research and buy new and used auto parts and accessories.
Amazon Vehicles will allow the company's millions of shoppers to access research and consumer feedback through the same portal they currently use to make many of their online purchases. Competitors won't easily cede the throne, however.
"Kelley Blue Book and Autotrader remain the most trusted and visited car research and shopping websites, with nearly 36 million unique monthly visitors," noted Steve Lind, executive vice president of operations at Cox Automotive media solutions group.
They reach nearly three-quarters of all car shoppers, he said.
"This is the direct result of the more than 100 years of combined experience we have helping car buyers and sellers navigate the new and used car shopping process with ease," Lind told the E-Commerce Times.
Potential Growth
Amazon sees the automotive space as an opportunity to drive new value beyond the US$1 trillion mark, suggested Vishwas Shankar, mobility research manager at Frost & Sullivan.
"In the future scenario of shared mobility, Amazon could take multiple roles, moving away from just selling cars to even offering its platform to e-share/e-hail cars," he told the E-Commerce Times.
It even might grow the aftermarket business, Shankar added.
Amazon also might leverage this move to find new ways of enlisting Alexa to integrate the voice technology into cars, he speculated.
The future of automotive retailing is fast becoming a mix of brick-and-mortar dealerships, parts stores and online portals, where consumers will use multiple strategies to research, test and ultimately purchase automobiles, observed Shankar.
"The average digital marketing spend is expected to reach 70 percent of the marketing and advertising budgets of dealerships and OEMs," he noted. Up to 60 percent of sales leads will originate from digital means, and after the year 2020, digitation will enable lead conversion ratio improvements of more than 80 percent.