Amazon last week confirmed and detailed the bare-bones Fire tablet (pictured above), which will sell for just $49 — and it announced five other Fire family additions while it was at it.
Flanking the Fire tablet are the refreshed Fire HD, the Fire TV with 4K, the Fire TV Stick with Voice Remote and the updated Fire Kids Edition. Amazon announced two flavors of the revisited Fire HD, and a gaming bundle built around the Fire TV.
The new tablets will begin shipping on Sept. 30., and the streaming hardware goes out in October, according to Amazon spokesperson Robin Handaly. Amazon opened advance orders for the streaming devices on Thursday, but the new TV hardware is available now.
Fire Tablets
Despite having a sub-HD pixel count and just 1 GB of RAM, the Fire tablet's $49 price point lowers the bar for brand-name tablets. That price point also makes the tablet slim enough that more consumers can fit more Amazon tablets into their lives.
"The Fire tablet may not be for everyone, but anyone who uses a tablet primarily for content consumption and entertainment is well-advised to consider it–hard to find a bigger bang for the buck," said Charles King, principal analyst at Pund-IT.
For families that really want to build out their Amazon ecosystem, the company is offering a six-pack of tablets for the price of five.
"How customers may choose to use the six-pack will vary. For example, some may purchase them as gifts, while others may use several of them around their homes," Handaly told the E-Commerce Times.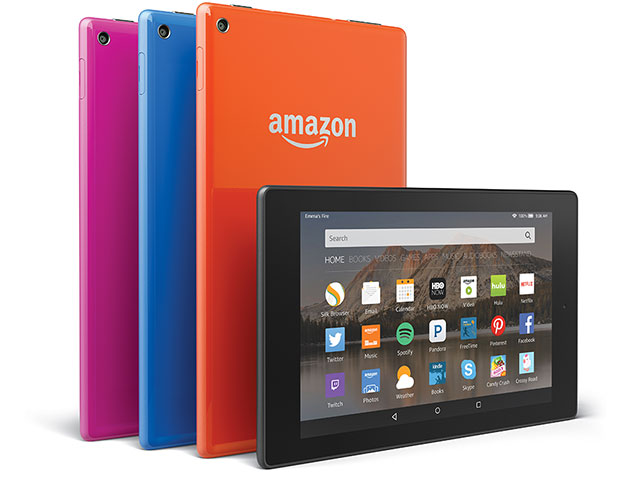 The new Fire HD 8 and 10, priced at $149 and $229 respectively, each deliver about an hour more of battery life than the Fire 7. They both have 720p chat cameras and 5-MP rear cameras. The Fire features a sub-HD front-facing camera and 2 MP shooter on its back.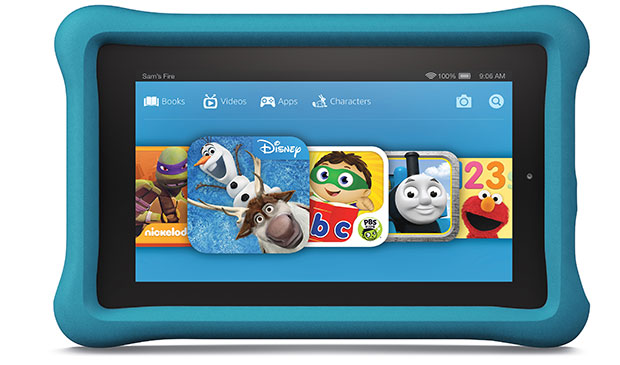 The Fire Kids Edition is a Fire tablet encased in kid-safe armor. What drives the Fire Kids Edition's price to double that of the Fire tablet is a full year subscription to Amazon's curated collection of kid-friendly books.
Fire TV
Amazon tuned the upcoming Fire TV to be 75 percent faster than the original, and the gave the set-top box the ability to stream 4K UltraHD content, all while leaving the retail price unchanged.
The $99 device's compatibility with Amazon Prime, Amazon Video and Netflix gives it more access to 4K content than any other streaming media hardware, the company claimed.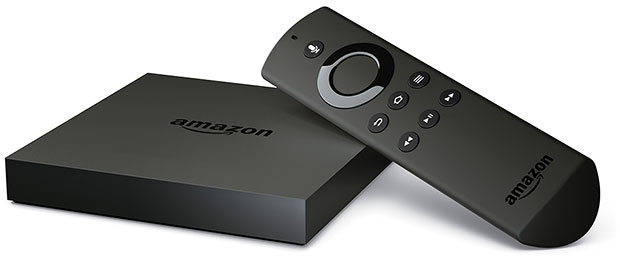 Meanwhile, Amazon gave the compact Fire TV Stick voice support. Fire TV Stick users now can voice-surf through their apps and toss queries to Alexa, Amazon's Siri-like digital assistant software.
The Gaming Edition of the Amazon set-top box, priced at $139, packages the refreshed Fire TV with the company's reworked gamepad and a 32-GB microSD card. The bundle takes a cue from core consoles, starting players off with two games: the HD remaster of Disney's Ducktales and the 2D platformer Shovel Knight.
The Fire TV and its immediate family set Amazon and Apple on opposite sides of an ungraded road, and it's about to be high noon, so to say.
"Interestingly, the Fire TV places Amazon into a direct confrontation with Apple, which launched its own improved TV device last week," King told the E-Commerce Times, "but by supporting 4K content, Amazon has pushed Apple aside in a still-developing yet potentially lucrative market for high-quality video."
On Fire
While Amazon is locked out of Google's Play Store, per app store rules, and its highly ambitious entry into the smartphone market flatlined, the company has one edge that could give it a strong chance in upcoming shootouts with Apple, Google and the like.
Amazon is striking while the iron is hot, noted Larry Chiagouris, professor of marketing at Pace University's Lubin School of Business.
Shoppers have a high level of trust in Amazon, he said, referencing a yet-to-be-released study on millennial consumers and their habits, conducted by the Marketing Executives Networking Group.
More than half of respondents in both the millennials group and the 35-and-older group indicated they trusted Amazon more than any other major tech company, according to Chiagouris. About 17 percent of the millennials pointed to Google, about 12 percent to Apple, roughly 8 percent to Facebook, and about 5 percent indicated that Microsoft was the most trustworthy of the bunch.
"Amazon cannot be expected to remain so far ahead on the important trust factor forever, and they are doing what they can to exploit the trust advantage, which includes launching new products and services that will be more readily accepted today than … a year or two from now," Chiagouris told the E-Commerce Times.
While the iron is hot, Amazon has been preparing to release what could be described as "loss leaders," King pointed out. These latest products have been designed to encourage the use of Amazon's long-term services, and to enhance the company's position, rather than drive remarkable profits.
"That's diametrically opposite from the strategy pursued by Apple and many other consumer electronics vendors," he added, "but it's one Amazon has long used to enhance and extend its own market position."