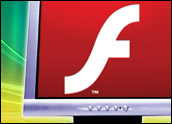 Adobe has lashed back at Apple following Steve Jobs' public letter of criticism of Flash, which the Apple CEO posted on his company's site Thursday.
In an interview with The Wall Street Journal, Adobe CEO Shantanu Narayen responded specifically to several of Jobs' critiques. Regarding Jobs' assertion that Flash is the primary reason Macs crash, Narayen stated that OS X itself is equally responsible. He also denied that Flash causes excessive battery drain.
An entry on the company's Adobe Featured Blog also came to Flash's defense.
"The primary issue at hand is that Apple is choosing to block Adobe's widely used runtimes as well as a variety of technologies from other providers," wrote Kevin Lynch, Adobe's chief technology officer.
The fight escalated further on Friday when Microsoft jumped into the fray and apparently sided with Cupertino.
"The future of the Web is HTML5," Dean Hachamovitch, general manager of Internet Explorer, wrote in a posting on the Internet Explorer blog. "HTML5 will be very important in advancing rich, interactive Web applications and site design."
Despite the tense rhetoric, Adobe's Lynch did hold out an olive branch to Apple. "We feel confident that, were Apple and Adobe to work together as we are with a number of other partners, we could provide a terrific experience with Flash on the iPhone, iPad and iPod touch," he wrote.
Adobe still offers the ability to target the iPhone and iPad in Flash CS5. However, it gave up on developing apps for the iPhone and iPad last week, after Apple changed its iPhone developer program license in a move widely seen as targeting Flash.
Redmond Delivers a Knee Stomp
On Friday, Microsoft sided with Apple, declaring that HTML5 is the future of the Web. It will only support H.264 video playback in IE 9, Hachamovitch announced.
H.264 is a new video compression technology used in Blu-ray Disc, videos from YouTube, realtime videoconferencing, broadcast satellite television services, and cable TV services.
"H.264 is an industry standard with broad and strong hardware support," Hachamovitch wrote. "Because of this standardization, you can easily take what you record on a typical consumer video camera, put it on the Web, and have it play in a Web browser on any operating system or device with H.264 support such as PC with Windows 7."
It's Just Business, Folks
Both Microsoft and Apple are involved in developing HTML5, so how much of their attack really focuses on the quality of the technology?
That depends on whom you speak to.
Adobe, of course, thinks Apple's only trying to protect its turf. "Apple's moves to block Flash and other technologies are designed to protect a business model that locks developers and consumers into a single, proprietary stack," Adobe spokesperson Stefan Offerman told the E-Commerce Times. "Any attempt to position this solely as a technology issue is a smoke screen," he added.
"You have a couple of industry powerhouses trying to rattle Adobe," Jim McGregor, chief technology strategist at In-Stat, told the E-Commerce Times. "Apple's trying to protect its walled garden approach; it wants to control everything in its world," he said.
Microsoft, on the other hand, is trying to venture into the Web any way it can, such as with its Silverlight product, for example, McGregor contended. However, Redmond isn't quite making the cut. "Flash is the de facto standard, and Microsoft on the Web tends to be two steps behind," McGregor explained. "It's a follower, not a leader."
Microsoft declined comment beyond what it had posted on the IE blog, Sara Anissipour, from Waggener Edstrom Worldwide, one of Redmond's public relations agencies, told the E-Commerce Times.
Is HTML5 Better Than Flash?
Microsoft and Apple do have a point, contended Rob Enderle, principal analyst at the Enderle Group.
"Flash is buggy and has crashed both IE and Firefox," Enderle told the E-Commerce Times. "Microsoft captures breakage statistics across all its platforms, and Flash is one of the major things breaking its operating systems."
Flash might lose out to HTML5 in the end. "Whenever Microsoft and Apple team up, you're in real trouble," Enderle said. "One's got 90 percent of the PC market, and the other the remaining 10 percent."
Adobe needs to adapt quickly if it wants to remain relevant on the Web, Enderle said.
"Adobe doesn't have relationships that will allow it to drive this, the relationships are for the most part driven by Apple and Microsoft," Enderle pointed out. "It's traditionally done best with focused products like Photoshop, and a broad-based Web product like Flash is difficult to fight for."
However, Adobe as a company will be able to pull through.
"Fortunately, Adobe's business doesn't depend on Flash, although this is a very profitable product for it," Enderle said. "This is just an example of where, if you reach dominance in an area that's not your core competence, you'll get in trouble when that dominance is challenged."