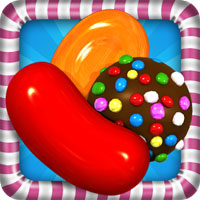 The deal isn't done, but Activision Blizzard already was calling itself a "crowned leader" earlier this week, as it anticipated acquiring Candy Crush publisher King Digital Interactive.
Both companies' boards of directors are on board with the acquisition, and the two sides have signed a "definitive agreement" that entails Activision Blizzard picking up King's outstanding shares.
Those outstanding shares, going for US$18 per, total $5.9 billion, and that's what Activision will pay to bring King into its court.
The Coronation
The deal requires favorable nods from King's shareholders and the Irish High Court in order to go through.
It also needs clearance from the relevant antitrust agencies. There's little overlap in Activision Blizzard's and King's businesses, so they have that going for them on the regulatory side.
If all goes as planned, Activision Blizzard will lord over King's mobile properties officially next spring.
On the business side, King will put Activision Blizzard smack in the middle of the mobile mix, according to George T. Chronis, director of qualitative analysis at DFC Intelligence.
"However, we see very few synergies between the two companies in terms of products," he told the E-Commerce Times. "Really, it just addresses Activision's weakness in mobile and reaching a broader demographic — becoming a major player on mobile at an extremely high price. For King shareholders, this is probably the best possible outcome."
For the Players
Activision churns out AAA games — that is, blockbusters — from annualized franchises such as Call of Duty and, previously, Guitar Hero. Core gamers complain about that.
King crushes the mobile charts with its free-to play games, and core gamers complain about that too.
Still, people keep lining up for a fresh helping of whatever Activision Blizzard and King and are serving.
While many core gamers may sigh at this marriage, most consumers probably won't notice much of a difference in the near term, observed Christine Arrington, senior analyst of Games at IHS Technology.
"Both companies have well-established brands that will probably not be disrupted," she told the E-Commerce Times.
For long term, however, it looks as though core gamers should expect to see mobile become key components of their favorite franchises, said Arrington — and Activision already was pushing in that direction.
"The extension of popular titles to the mobile market has become a key strategy for big publishers around the world," she pointed out. "Bethesda's Fallout Shelter really made the benefits of mobile tie-ins salient to traditional publishers, and making sure there is a good experience that ties back to the core game has become very important."
Gamers gobbled up Fallout Shelter, praising it for its passive monetization system but decrying the lack of an end game. It easily provides more than a dozen hours of play time without requiring any real-world money.
Bethesda showed the industry a more gamer-friendly monetization model, but King has perfected its own.
"Acquiring King gives Activision popular content developed specifically for the mobile market," noted Arrington, "but it also brings in an experienced team that can probably help the company execute their broader mobile strategy more quickly."