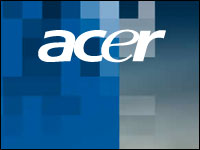 Acer Chairman and CEO JT Wang has lashed out at Microsoft over the software giant's plans to launch its own Surface tablets in October.
Microsoft should think twice before going forward with the tablet, as the move would be detrimental for the worldwide PC ecosystem, Wang said during an interview with the Financial Times.
Acer, which offers its own Iconia tablet, is one of Microsoft's largest OEM partners.
Wang urged Microsoft to reconsider its move and warned that other brands may have a negative reaction to Redmond's plans as well. He also asserted that Microsoft's not good at creating hardware.
The iDemon Plaguing Microsoft
Microsoft's move was apparently spurred in part by its OEMs' reactions to the fast-growing tablet market on the one hand, and the screaming sales performance of iPads on the other.
"Most of the initial tablet designs from the OEMs didn't appear competitive with the iPad, so Microsoft felt they had to step out and create a halo product or lose the market," said Rob Enderle, principal analyst at the Enderle Group.
"The OEMs … are getting beaten up in the Android tablet market by content aggregators such as Apple and Amazon that released their own platforms," Jim McGregor, founder and principal analyst at Tirias Research,, told the E-Commerce Times. "Microsoft is more worried about competing with Apple and Google than the overall impact [of its move] on the OEMs."
Microsoft spokesperson Dani Reese referred all questions to Acer. Acer America spokesperson Lisa Emard referred questions to Acer corporate headquarters in Taiwan; that office did not respond to our request for further details.
Microsoft's Jagged Little Pill
Redmond acknowledged in its 10-K annual report filing for the fiscal year ending June 30 that its Surface tablet would compete with products from its OEM partners. This might affect their commitment to its platform, Microsoft stated.
Microsoft's plan to make its own tablets isn't the only thing riling its OEM partners. There's also the fact that Microsoft will sell the Surface products directly without going through its regular distribution channels.
Microsoft CEO Steve Ballmer told CRN that partners who want to sell the Surface tablet have to buy it directly from Microsoft. Redmond plans to sell Surface tablets directly on the Web as well as at its brick-and-mortar stores.
Microsoft "is trying something unique in that they are moving the Surface tablets upmarket, creating a luxury line to compete with the iPad because none of their licensees have been able to, but that has clearly upset their ecosystem," Enderle told the E-Commerce Times.
No Resting on Laurels
Perhaps OEMs have only themselves to blame for their problems because they "have been pushing resources away from the desktop for some time and so the market has largely stalled," Enderle suggested.
For example, Dell has shifted most of its efforts to the mid-market and software, and HP has turned to growing its software and server business, both moving into areas "that are adjacent to or competing with Microsoft," Enderle elaborated. Further, "virtually all" the OEMs have dabbled with Android, further upsetting Microsoft.
"Microsoft is seeking to reverse that without handing the market to Apple," Enderle suggested.
That might be a tough row to hoe. Strategy Analytics reported that Apple had 68 percent of the worldwide market for tablets in Q2 2012. This was its highest level in nearly two years.
However, some potential buyers are eyeing Surface tablets, Strategy Analytics stated.
It's the Business Model, Bro'
Microsoft is "really competing against Apple's vertical integration model rather than against its OEMs," Tirias's McGregor said. "Using the OEMs is not the business model Microsoft is targeting with this move."
The OEMs "need to find other ways to differentiate from the Microsoft tablet," McGregor continued.
However, the only way to truly differentiate is to move up the value chain toward content and services, and this requires a completely different business model, McGregor said. "Unfortunately, this is a long-term trend that will eventually force some of the OEMs out of the business and may change the structure of the computing value chain forever."