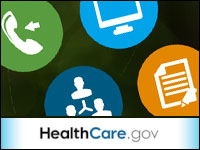 The raft of problems connected to the launch of HealthCare.gov appears to have sunk the fortunes of the private contractor paid for running the site.
The Centers for Medicare and Medicaid Services, charged with overseeing the health insurance marketplace, announced Saturday that it had awarded Accenture Federal Services a one-year contract for US$45 million to implement technical improvements to the site.
Accenture will replace the CGI Group, which developed the website for the CMS and was at its helm during its disastrous launch in October.
"We are honored to be part of the team of technology and healthcare companies and government professionals helping the federal government meet the healthcare coverage needs of its citizens," said David Moskovitz, CEO of Accenture Federal Services.
"Accenture will bring deep healthcare industry insight as well as proven experience building large-scale, public-facing websites to continue improving HealthCare.gov," he added.
'A' Team Needed
"CGI remains committed to our current work on HealthCare.gov until our contract ends as scheduled on Feb. 28, 2014," said spokesperson Linda Odorisio.
"Healthcare.gov is performing well, due in part to CGI's key role in the successful 'tech surge,'" she added.
"We are proud of CGI's hundreds of dedicated professionals who worked to deliver a positive consumer experience for the vast majority of Americans," said Odorisio. "We look forward to continuing our partnership with CMS in the future."
Handing off HealthCare.gov operations from one large federal contractor to another is no guarantee the site will improve, noted Michael Arrigo, managing partner at No World Borders.
"Accenture and CGI are very similar organizations," Arrigo told the E-Commerce Times. "Both have senior executives that are smart, but who knows who is going to be put on this project? The question is, will the A team be put on this or not?"
More Hospitable Atmosphere
As a big box government contractor, there's little doubt that Accenture has the chops to handle something on the scale of HealthCare.gov.
"Accenture does big projects like this all the time," Charles Stewart, general manager for Load Impact, told the E-Commerce Times.
"Compared to the kinds of projects they do all the time for Fortune 500 companies, making a website so people can look at healthcare options and sign up for them isn't challenging to them," he added.
Arriving on the scene after the disaster has passed also should benefit Accenture.
"There's going to be a honeymoon period because they're the white knights being brought in to save the day," Stewart said.
"They'll also have some breathing room that CGI didn't," he added.
On the other hand, the problems with HealthCare.gov could be beyond those that can be solved by a change of contractors.
"Technology is great at solving technological problems," Stewart said, "but if the fundamental problem is organizational or a process, no amount of money thrown at technology or bringing in outside executives from Microsoft or Google is going to solve the problem."
The Obama administration announced last month that Kurt DelBene, president of Microsoft's Office Division, was being loaned to the White House to oversee HealthCare.gov.
Out of the Box
HealthCare.gov was a missed opportunity for the administration to bring creative minds from Silicon Valley to build an innovative and cost effective HealthCare.gov, Stewart maintained.
"Instead they decided to go from one bloated federal contractor to another," he said.
The hiring of Accenture was an opportunity the White House did not miss.
"It allows the administration to say they fired somebody," Robert Laszewski, president of Health Policy and Strategy Associates, told the E-Commerce Times.
"This would have been a good time to really think out of the box for the way this thing is going to be run down the line," he said.
"These government contractors come out of the same inside-the-beltway cultural box," added Laszewski. "I think it is time to get out of that box."