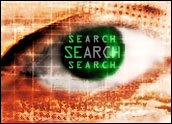 Vu Digital is a new search tool for the Internet that helps you locate content. This very interesting startup, which launched just over a month ago, does not replace traditional search engines like Google, Bing or Yahoo. It goes beyond them. You will still use traditional search engines, but Vu finds, organizes and delivers content users are looking for seamlessly. It seems to fill a need — and oh yeah, it's free.
The Internet is vast, and it's increasingly difficult to find what you are looking for. Traditional search engines find countless items to sort though. Vu simplifies the process and brings the news and information you are interested in right to you.
When you visit a site for news and information, you often find one story on a site but don't even know about similar stories buried on other pages of the same site. Vu helps users find the needles in the haystack.
To Vu, getting the right content to the right people is key. This sounds like a problem solver both for content providers who want their stuff to be read and seen, and for consumers who must sort through masses of articles to find the stories they are interested in.
Good for Publishers, Good for Readers
This symbiotic relationship is what Vu is all about, said founder Wade Smith, who serves as the company's vice president of operations and development.
Vu watches users' online search behaviors and interests based on their daily journey through the Web, he said. Vu then takes that personalized knowledge to each of the sites a user visits and finds and delivers matching news and content, no matter where it is buried.
The goal is to sift through mountains of information and find what a user is looking for quickly, said Smith, and to present it in an easy-to-use format. The more content a person consumes, the smarter Vu gets. It learns.
Media and content providers nationwide seem to love Vu for this very same reason. They know the problem all too well. As the years pass, their sites get jam-packed. Unfortunately, users often miss out on much of what would be of interest to them. Vu aims to reveal their hidden gems for interested readers.
Users can try Vu by visiting its website at or via a wireless app for iPhone or Android. In fact, Vu won Editors Choice and Featured App in the iTunes App Store, and garnered a 4-star+ average rating in customer reviews. Not bad for a brand new app.
New Rules
Vu has experienced good progress since its launch, and a positive overall growth trajectory, said Smith. Besides the tech and business media taking notice of Vu and its content personalization capabilities, consumers have jumped on board.
Vu has won more than 35,000 "Vuers" who downloaded the Apple iOS or Android app in just the first few weeks, he noted.
Word is starting to spread through media, social networking and word of mouth. Vu is expecting to reach critical mass of more than 90,000 by the end of Q2 said Smith. The company is focused on end user acquisition.
I downloaded the Vu app and found it continually updates as it learns. The company is adding streams to its mobile app to facilitate deeper, ongoing engagement. The product gets more refined with each passing week.
Vu is planning to launch a Facebook campaign, Smith said. It is also planning another external communications push that will further educate media and consumers about the entire Vu ecosystem and how it can change the way consumers experience and interact with content on a personal level.
It is interesting to watch how a startup builds in today's marketplace. Starting a new business in the information age is very different from what it used to be. Understanding the new rules of growth and success, as well as how those rules have changed over time, makes all the difference.
I'll keep my eyes on Vu, and as time passes, I will update you on how it is growing and changing.