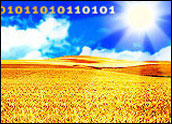 Solar is no longer on the back burner; it's right there at the front of the stove, demanding that economists and job seekers alike take notice.
"It's a tough environment, but I think it will continue to grow," Gerald Kelly, communications director for Third Sun Solar, told the E-Commerce Times. "As we move forward as a nation, more people will see that it makes sense to develop renewables."
Investing in solar, both on the governmental and private sector levels, is beneficial to the economy and job growth, Kelly noted.
Jobs, Jobs, Jobs
There's no question that the solar industry employs thousands of people in the United States and around the world, both workers directly involved with the systems — like designers, factory workers, electricians, installers, roofers and general laborers — and those in support services, such as administrators, marketers, lawyers and accountants.
As of Aug. 2011, 100,237 Americans worked in the solar industry, representing 6.8 percent growth over the last year, according to The Solar Foundation. During that time, 6,735 new solar jobs were created.
Solar job seekers even have specialized job boards, such as SolarJobs.us, where they can look for jobs in the industry.
"We have seen growth in jobs up and down the company structure," said Kelly.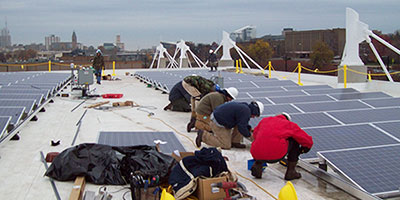 Third Sun Solar installers on a large commercial rooftop installation in northern Ohio.
Third Sun has had a dramatic hiring boom over the last two years, in fact. In 2009, it had 15 employees, and it currently has 28.
Other solar companies, like Solis Partners, for example, have seen similar growth.
"The job growth [in solar] went through the roof in 2010 in New Jersey," Solis Partners President Jamie Hahn told the Ecommerce Times. "That's where the industry saw rampant growth."
However, a dose of realism is advisable when evaluating the potential growth of the solar industry, said Jeff Spies, a solar training consultant and president of SolarSpies. it's important not to overestimate its growth potential.
"There's no doubt in my mind that jobs will grow," Spies told the E-Commerce Times. "The question in my mind is how quickly. Solar is fundamentally driven by economics. It really boils down to the investment opportunity."
Political Football
The fact is, the solar industry has been booming recently in part due to federal and state tax incentives and grants that have given it a shot in the arm. As politicians wrangle over the future of these incentives, however, the industry is taking stock of itself.
"The problem is incentives like that become a political football," said Kelly. "In terms of growing an industry and building jobs, we would prefer to see a middle path."
Despite its recent staff surge, Third Sun is not hiring at the moment. Rather, it's waiting to see what 2012 brings in terms of tax incentives, grants and political goodwill.
It's likely that the industry will experience a slight cooling-off in the coming months, said Hahn.
"In New Jersey, you will see a slowdown and a consolidation in the marketplace," he predicted. "In the long term, that's healthy."
Defenders of solar energy argue that traditional forms of energy would never have gotten off the ground if it weren't for government subsidies and other assistance.
"Looking back historically, for the power utilities to build all their lines, they were only able to do that because they were granted local monopolies," said Kelly.
Breaking In and Moving On
For those interested in getting into the solar industry, the best place to start is with specialized solar training. Increasingly, schools, colleges and universities are offering programs in solar design and installation.
"There's an infrastructure that's growing as companies hire," said Kelly, "and community colleges and technical colleges are creating programs to meet that demand."
After getting the requisite training, workers in the solar industry can seek certifications in solar installation, sales, and other areas from the North American Board of Certified Energy Practitioners (NABCEP).
Whatever happens in the political and governmental arena, few dispute that solar energy has a role to play in the future of energy production, and that it will continue to create jobs.
"I can envision a day when people will look at pictures of electrical lines and say, 'How quaint,'" said Kelly. "That's where we're headed. It will take some time, and it will also take some will."