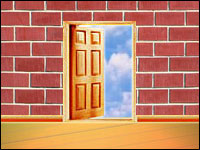 With the explosive amounts of electronic information being generated daily, it's no wonder many companies are considering alternative storage options.
None of these options has generated more interest than cloud-based systems. Companies are looking to cloud computing to ease the burden of information management and enhance business agility by provisioning technology infrastructure resources on the fly. The early buzz on cloud solutions is that it promises the flexibility that is essential to a growing business, facilitating disaster recovery and data availability, lower costs, and so on.
With so many potential benefits to gain, why haven't more businesses rushed to embrace cloud-based solutions? Part of the answer lies in risk.
Any new deployment model involves risks, such as disrupting existing workflows or data corruption during the migration process. Furthermore, some cloud-based systems are characterized by fairly rigid application silos. These silos require a deep understanding of the source data in order to perform accurate data mapping, thereby posing another potential data conversion obstacle.
Mitigating Risk
If you are eager to explore a cloud solution, the good news is that these challenges can be managed. Based upon experience gained from helping numerous companies migrate to cloud-based services, below are a few planning tips that can help mitigate risks.
Take time to survey your data. Companies often assume they know exactly where all of their source data currently resides, only to realize mid-conversion (or worse, post conversion) that they have overlooked some important source data. Don't forget about departmental databases, disparate office locations or user workstations.

It takes some additional time, but performing a quick survey of your user groups can yield information about data tucked away in any of these "off the network" locations.

Review your conversion plan with business process owners. You have undoubtedly taken time to analyze the schema of your source data and map it to the target cloud system. What might have gone unnoticed are the innocuous "trigger" fields contained in that data that are being used to initiate business processes.

Business users are amazingly resourceful. Often that one legacy date or status field you think is no longer relevant may be the one field the business owner has re-purposed to kick off a key event that helps them run their department. In most cases, it is not practical to conduct a complete business process engineering review, but taking the time to meet with department heads to understand what sparks their workflows can pay real dividends.

Plan to cleanse your data. Generally speaking, the older your data, the higher the probability it contains incongruities. This often occurs when converting messaging data. For example, it is not uncommon to find a user with .PST files containing email communication from ten years ago. Not only is there a high probability that some of this data is corrupt, converting it all can be expensive.

Remember, many cloud platforms charge by the amount of storage used. Conversion is a great time for management to implement a data retention policy. These policies help limit the exposure, and potential liability, posed by old data.

There is no substitute for experience. In spite of your careful planning, there is always the possibly of missing or misinterpreting legacy data. Many cloud solution providers can provision a test environment or sandbox for conversion testing. It is wise to take advantage of this. The time and effort required to assemble a cross functional team of beta users (IT, sales, marketing, production) to pilot a test run of your converted data in the cloud application can be invaluable. A hidden benefit of this step is that the beta test group can become your "key" users for the new platform by spreading their knowledge and enthusiasm to peers.
Do Your Homework
Most of these recommendations are simply good project management, but in the process of managing multiple priorities, they can be easily overlooked.
The popularity of the cloud has prompted the development of numerous software tools and professional service organizations that can help migrate your organization's business critical data.
As with any major platform evaluation and deployment, the best approach is to do your homework. Understand all the associated costs, limitations and risks before moving forward. Enlist the help of experts, when appropriate, to make sure that whether your data remains on-premise or in the cloud, everything is where it should be.
---
Kevin Ogrodnik
is president of
Sherpa Software
. He can be reached at
[email protected]
.