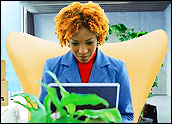 In a previous column, I addressed the importance of website users understanding what they are agreeing to when they use a site. Now I'll take a look at the other side: What risks do site owners run by having poorly written Terms of Service (ToS) or Click Agreements — or none at all?
If your company offers goods or services through its website (or for that matter, if downloads or advice are offered for a cost — or even for free), when was the last time you looked to see what your ToS or Click Agreements say? If you've read my prior column, you would know that those ToS or Click Agreements could constitute a binding contract on the user, and that those contractual terms are important to your company.
This column is directed to those individuals who should be concerned about what the ToS and Click Agreements say — CEOs, CMOs, CIOs, CFOs, or anyone responsible for any use of your company's website. If you haven't run those ToS or Click Agreements past your lawyer, this column is designed to convince you do to so — and not just when you create the website, but perhaps more often. You should review these documents when your products change, as well as when you include new or different third-party agreements, new services or other things your website offers, provides or promotes.
What's the Difference Between a Click Agreement and Terms of Service?
In short, not much — except that with a Click Agreement the user must click "yes" before proceeding so that the website has proof that the user has at least taken a step to agree to the contractual terms of the Click Agreement.
If you offer services or products through your website, there's a great chance that the visitors are presented with Click Agreements. Like ToS, generally, the fact that few people actually bother to read them before clicking does not affect their validity, according to most courts as noted in cases in my Law of eCommerce syllabus. If you have neither a Click Agreement nor ToS, or you haven't looked at them recently, read on.
Website Owners May Need Rights to Intellectual Property
Does your website include any social media-type activities? For example, do you encourage users to post ideas, pictures, articles, PowerPoints or videos? If so, are you protecting yourself in the event the user posts something without having the intellectual property rights to do so? Or if you plan to reuse or repost the material, are you making it clear that you will have the right to do so?
LinkedIn users who post PowerPoint slides grant LinkedIn a license that can never be terminated, and that LinkedIn can assign or sell. Here is what LinkedIn includes in section 2 B "License and warranty for submissions to LinkedIn" in the Terms of Use :…you grant LinkedIn a nonexclusive, IRREVOCABLE, worldwide, PERPETUAL, unlimited, assignable, sublicenseable, fully paid up and royalty-free right to us to copy, prepare derivative works of, improve, distribute, publish, remove, retain, add, process, analyze, use and commercialize, in any way now known or in the future discovered, any information you provide, directly or indirectly to LinkedIn, including, but not limited to, any user generated content, ideas, concepts, techniques or data to the services, you submit to LinkedIn, without any further consent, notice and/or compensation to you or to any third parties. LinkedIn may choose not to sell PowerPoint presentations or other posts, and it may want the right to the intellectual property simply so it can use the materials on LinkedIn as posted, or similarly in the future, but broader rights are granted.
If you want to own or even have the right to reuse comments made by visitors to your site, that right should be included in your site's ToS or Click Agreements. For instance, the YouTube ToS give it a perpetual and irrevocable license to all user comments. YouTube wants those rights because it relies on user comments to promote videos posted.
Website Owners May Want to Limit Risk
TOS and Click Agreements also protect website owners by limiting liability and damages. For example, Google's ToS clearly state that Google has no liability for any damage of any sort whatsoever:YOU EXPRESSLY UNDERSTAND AND AGREE THAT GOOGLE, … SHALL NOT BE LIABLE TO YOU FOR …ANY DIRECT, INDIRECT, INCIDENTAL, SPECIAL CONSEQUENTIAL OR EXEMPLARY DAMAGES WHICH MAY BE INCURRED BY YOU, HOWEVER CAUSED AND UNDER ANY THEORY OF LIABILITY. Can people who use your website sustain actionable damages for such use? Yes! Here's an example: Suppose your website always comes out No. 1 in a Yahoo search for places to buy new iPads. But your website only sells USED iPads. Your customers may want to sue Yahoo for your website's misrepresentations of the iPads, but if you look at Yahoo's ToS, you will see that Yahoo has no liability for any damages. If your website is a pass-through to another site that sells goods or services, unless you limit your liability in your ToS or Click Agreement, you may be on the hit list for a lawsuit from an unhappy customer who buys through your site. If you have a limitation of liability, you may still have economic exposure, but you may have a great defense as well.
Damages Limitations and Indemnities Are a Form of Limiting Risk
How much of a limit of damages do you think is fair and reasonable for your website? Google and Yahoo's lists of damages for which they are not liable include every possible and conceivable type damage!
On the other hand, Microsoft's ToS limit Microsoft damages to "…only direct damages up to an amount equal to your service fee for one month." Which of course may not be much, but it is more than the US$0.00 that Google's ToS include.
Another means to reduce liability is to require that users indemnify (promise to defend lawsuits and pay damages) the website owner for claims made resulting from actions of the user. Using the example mentioned above, if the unhappy iPad customers sue Yahoo for your website's misrepresentations, Yahoo is likely protected by its indemnity provisions in its ToS. Regarding the other example above, if a user posts a PowerPoint that the user doesn't own, LinkedIn's User Agreement includes indemnity provisions require that the user protect LinkedIn from a claim by the actual intellectual property owner.
What Else Can Go Wrong if You Don't Create or Customize Your ToS or Click Agreement?
The examples here are limited. We all know that users on websites who feel harmed can develop creative legal theories to find someone responsible, and a website owner is not immune from liability simply because the interaction is on the Internet. Might you also want an indemnity in your ToS or Click Agreements to protect you for what users do on your website?
Not having either ToS or Click Agreements will leave website owners vulnerable in many ways, including those discussed above. In addition, many websites contain ToS and Click Agreements that are borrowed from other sites. This practice can create interesting issues. For example, if you are in New York, and you copy the ToS or Click Agreement from a competing website for a company based in California, you may find that you or your user must bring a lawsuit in California. Or you may agree to provide something, like updates, that you do not wish to provide.
What if a user is abusing other users on your site or stealing content from your site? Or what if a user is infringing others' intellectual property that the users post on your site? You may want the ToS and Click Agreement to allow you to terminate the violators' use of your website and provide money damages to you. If you do not have a provision in your ToS or Click Agreement, a court could tell you that you may not terminate a user or collect specific damages because you did include such a provision.
LinkedIn reserves the right to terminate members who "… upload a profile image that is not your likeness or a head-shot photo." This is LinkedIn's way to try to restrict members from misrepresenting their true identities. Depending on what services you offer on your website, would such a right be helpful to force users to not misrepresent their identities?
Conclusions About ToS & Click Agreements – but Not Privacy Policies
I hope this discussion will lead you to take the time to review your ToS and Click Agreements to see how they do, or do not, apply to your business needs. Since many websites simply clone ToS and Click Agreements from other websites, it may be important to really study your own business risks.
Having ToS and Click Agreements suited to your business can minimize risk and, in the event you are in litigation over some business activity, give you more ammunition to fight the battle. If you don't currently have any ToS or require a Click Agreement, you may want to think about it now.
And please note — this article does not address privacy policies, another important protection for website owners, which I will address in another column… so stay tuned!