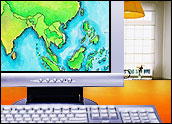 For many in the West, Asia is viewed as a large monolithic geographic area with some slight differences among regions. However, a more-informed understanding is that there are several market segments, and an understanding of some of the key differences between segments is valuable to developing effective market strategies.
Today, both India and China are propelled by strong economic momentum. Historically, they both also had a deep and lasting cultural influence on much of Asia. An awareness of this history is useful in developing effective business strategies.
Japan, the second-largest economy in the world, is part of Asia. It has historically been the "best" Asian market for most companies, but this is rapidly changing as the China-India momentum builds.
Wide-Open Market Opportunities
It is useful to get a sense of the scale of the opportunity. An examination of the worldwide Internet population shows Internet activity concentrated in the U.S. and Europe.
China, Japan and Korea have a rapidly developing Internet presence. Most of the rest of Asia is undeveloped but growing — and wide open in terms of opportunity.
The Internet is only just beginning to take root in much of Asia (18 percent vs. 73 percent for North America), and only Africa has less penetration. However, it is expected that almost half of all Internet users will be Asian by 2013.
Already, there are more people online in China than in the U.S. There could be a major opportunity for companies that learn to tap into this new online population. However, this will require an understanding of the diversity and characteristics of the various segments and will also demand new approaches in communication and marketing.
Did You Know?
Some interesting, perhaps little-known facts provide a useful contrast between Asia and Europe and demonstrate both the present-day reality and the scope of the future opportunity:
GDP per capita in Asia (approximately US$15,000) is less than half the EU average, and there is a much wider standard distribution. A large population lives in poverty throughout the continent.
While India and China are among the fastest-growing economies in the world, the latest figures on GDP per capita are $2,800 for India and $6,000 for China. They should both still be considered developing economies.
The top GDP per capita countries (2008) in Asia: Singapore ($52K), Hong Kong, Japan, Taiwan, South Korea ($23K), Malaysia, Kazakhstan and Thailand ($8.5K).
India has 22 official languages that are as distinct and different as the 23 EU languages; half a dozen different scripts are used. English is spoken by a mere 7 percent of the people in India. However, it is possible to get deep penetration into the Indian market with five key languages.
There is very little content in local Asian languages on the Web, in general. Based on a survey done by Asia Online in 2007, less than 15 percent of the total content on the Web is in Asian languages. Almost 90 percent of the Asian language content is in Chinese and Japanese. There is a huge need for more local language content in Southeast Asia.
China now has the fastest-growing patent office in the world. The World Intellectual Property Organization (WIPO) states that China is clearly an emerging scientific and technological power.The share of Asian country-based patent filings is now in excess of 50 percent of all patents filed across the world.
India has more gifted and talented students in high school than the total school student population in the U.S. China has more students in science and technology college degree programs than India and the U.S. combined.
McKinsey & Company has identified a "Rising Asia" as a stable long-term trend that will fundamentally change consumption patterns.
Gartner suggests using IT to reach the market. The research firm suggests that global companies use IT to "lighten" their Asian business model in order to address specific cultural, geographic reach, and supply chain considerations.
Wealthy Asians are concentrated in major cities like Shanghai, Beijing, Hong Kong, Singapore, Kuala Lumpur, Mumbai, Delhi, Seoul, Manila and Bangkok.
China is now the fastest-growing market for Bentley and BMW.
Even countries like Laos, Nepal, Pakistan, Sri Lanka, Myanmar, and Cambodia — which have very low GDP/capita — are interesting markets for cellphones and basic commodities.
An understanding of the critical perspectives of Buddhism, Hinduism and Confucianism can dramatically enhance communications strategies targeting most parts of Asia.
Google is not dominant in key Asian markets. In Korea, it has less than 2 percent search market share; in China, about 17 percent; and in Japan, about 20 percent. Local companies dominate because of their better understanding of local content, language and customer preferences. This suggests that standard U.S. approaches may not work well in many Asian markets.
Chinese social networking startups have produced many innovations that have led to their becoming profitable much faster than their U.S. equivalents, like MySpace and Facebook. Asian innovation is gradually making its way to the West.
Most of Asia has been relatively unscathed by the global financial and real estate market collapse.
Plan for Change
All of these factors point to fundamental shifts in the global economy and indicate that many of these trends will accelerate further. Asia is a significant opportunity for informed globalization managers — and probably key for long-term leadership.
Global companies need to develop broad and unique country-specific strategies to be able to prosper and thrive in this rapidly changing world. Localization and translation will be key elements of any successful globalization plan and should present significant opportunities to vendors that prepare for this change.
It's wise to remember that the Chinese ideogram for "change" can also mean "opportunity."
The impartial, nonprofit Globalization and Localization Association (GALA) maintains a Language Technology and Services Directory of professional firms, many of which focus on helping customers localize for European markets.
---
Kirti Vashee
is VP of enterprise translation sales at
Asia Online
, an international Web portal and machine translation technology company. Asia Online is a member of the
Globalization and Localization Association
(GALA), a nonprofit, international industry association for the translation, internationalization, localization and globalization industry.
Note:
Statistics and facts in this article were drawn from
Internet World Stats
,
The World Factbook
and the
World Intellectual Property Organization
.