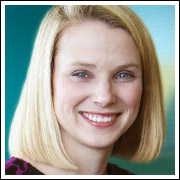 Yahoo CEO Marissa Mayer has been more active than a kid on a sugar high. The company on Wednesday announced a partnership with Carnegie Mellon University to advance personalization and mobile technologies.
That was the same day Mayer told employees in a closed-door meeting that Yahoo would be partnering with Yelp, The Wall Street Journal reported.
Mayer on Tuesday said she was keen on contextual search in a keynote speech at the Goldman Sachs Technology and Internet Conference in San Francisco. She's also keen on continuing to push into mobile.
Also on Tuesday, Yahoo acquired Wander, the company behind the Days app.
Yahoo earlier this month broke ground for a new facility in Champaign, Ill., possibly for research into advertising technology.
"Marissa's comments yesterday are in line with what we've said before — that we continue to invest in search," Yahoo spokesperson Lauren Whitehouse told the E-Commerce Times.
"This showcases she is still largely in search of a strategy and is operating very tactically and against Google, likely because she'd like to teach them a lesson for passing her up," remarked Rob Enderle, principal analyst at the Enderle Group. "I think she's demonstrating why she was passed up instead."
Yelping With the Best
Yahoo reportedly will incorporate Yelp's listings and ratings of local businesses into its search results, under terms of the deal. The integration is expected to roll out in the next few weeks.
The move could represent Yahoo's effort to differentiate itself not only from Google, but also from Bing, its search partner. Yahoo previously has expressed dissatisfaction with its 10-year deal with Bing, and it may seek an exit in 2015 — the halfway mark, when the agreement lets either party opt out.
"She appears to be signaling a divorce with Bing [with the Yelp agreement]," Enderle told the E-Commerce Times.
"I doubt if either side is truly happy with that deal because Microsoft pays most of the costs and Yahoo isn't getting as much benefit as expected," he said.
Yahoo may not get much satisfaction from the Yelp deal either; Yelp also partners with Microsoft and Apple.
The revenue split between Yahoo and Yelp might be 30-70, a source told CNet.
The Search for Context
Contextual search is becoming increasingly important as a generator of revenue for online companies. However, Yahoo may be behind the curve here.
"Google has a significant lead and vastly more resources, having already bought Deep Mind," Enderle pointed out. "It's virtually impossible for Mayer to catch them from behind."
AI is seen as a must-have technology for contextual search, and IBM on Wednesday briefed some analysts about its work in that area, Enderle noted.
"This is one of the elements of a productized Watson," he said. "They're calling it Watson Jr."
IBM is "ahead of everyone but Google" in this area, Enderle added.
Microsoft stepped up its move into contextual search last week, investing $15 million in Foursquare in exchange for contributions to Bing's location and context layers on the Windows 8 and Windows Phone platforms.
Battling the Big G
Google's public entry into contextual search came with the launch of its Hummingbird algorithm in September.
Google also focuses on contextual targeting for ads.
To succeed in contextual search, Yahoo "needs something like Deep Mind, and I expect an acquisition like that is in their future," Enderle opined. "The AI work both Google and IBM are undertaking would be massively helpful here."