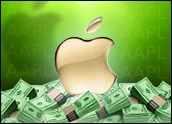 Apple has agreed — conditionally — to settle a lawsuit over allegations of fixing the prices of e-books brought against it by the attorneys general of 33 states in the United States, following a protracted legal battle.
The settlement is subject to approval by the U.S. District Court for the Southern District of New York, which ruled on the case in September.
That's not all; the case is pending appeal before the United States Court of Appeals for the Second Circuit.
Terms of the Agreement
If Apple loses the appeal and is found to have violated antitrust laws by fixing the prices of e-books, it will have to shell out US$400 million, which will be distributed among people nationwide who purchased e-books.
It also will have to pay the 33 states $20 million for costs, fees and civil penalties.
If the appeals court does not affirm the original ruling, and if liability must be retried, Apple will have to pay out $50 million.
Should Apple win its appeal and be cleared of violating antitrust laws, it will pay nothing.
A Brief History of the Case
The U.S. Department of Justice in 2012 filed an antitrust suit against Apple and five large publishers alleging they conspired to fix the prices of e-books in retaliation against Amazon's pricing most e-books at $9.99 starting in late 2007.
The publishers were Hachette Book Group, HarperCollins Publishers, Macmillan, Penguin Group and Simon & Schuster.
The DoJ also alleged that the six forced Amazon to follow their lead in moving from the wholesale model to an agency model, thus forcing up e-book prices. An agency model lets publishers set prices, while the wholesale model lets retailers do so.
"While online sales theoretically create a level playing field where all can compete, it has resulted in massive, industry-wide consolidations that have largely benefited a well-heeled few while gutting traditional industry players," Charles King, principal analyst at Pund-IT, told the E-Commerce Times.
"The Apple-Amazon melodrama is one of the few times I can think of where two relatively equal players have gone up against one another in a sort of Godzilla vs. Mothra battle for the soul of online commerce," King continued.
Apple mounted a stroppy battle in its defense, while the publishers agreed to settlements at different times, the last in February 2013.
Counting Out the Shekels
As part of their settlement, the five publishers paid a total of $166 million, which is being disbursed to e-book purchasers by a claims administrator under the supervision of the state AGs and counsel involved in a class-action suit against Apple over the price-fixing issue.
Eligible consumers either get credit on their e-book retailer accounts or get checks in the mail. More information on the disbursements is available here.
Amazon customers can go here to find out how they will be reimbursed.
Monies paid out by Apple to settle the price-fixing lawsuit probably will be disbursed in a similar fashion.
Impact on Amazon
The outcome of Apple's appeal will have no impact on Amazon, Ezra Gottheil, a principal analyst at Technology Business Research, told the E-Commerce Times.
"Because Amazon has enormous loyalty from readers, and because the Kindle App is available on all platforms including Apple's, Amazon keeps the lead in this business," Gottheil said, pointing out that Apple has "a strong position" in K-12 textbooks.
Amazon itself is embroiled in a battle with publishers over book pricing and profit-sharing arrangements. In the U.S., it has locked horns with Hachette, and in Germany with the Bonnier Media Group.
This has led to Amazon's refusing to carry Hachette's summer and fall titles.
"Amazon … is just saying what it will or will not pay for the right to sell Hachette books," King said. While Hachette can work with other online retailers, Amazon's clout "would likely result in it and its authors selling fewer books."