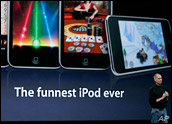 Apple this week clomped into court to continue fighting a nearly 10-year-old class-action suit stemming from its use of digital rights management technology in iPods.
The suit originally was brought in 2005.
Both sides' lawyers have filed dozens of trial documents in several hearings. The courts have dismissed some of the items in the original complaint, but have refused to dismiss the case against Apple.
The suit affects consumers who bought iPods from Apple between Sept. 12, 2006, and March 31, 2009.
The case, In Re Apple iPod iTunes Antitrust Litigation, is being heard in the United States District Court for the Northern District of California.
The plan to cite emails and a videotaped deposition from late Apple founder and CEO Steve Jobs has aroused considerable interest and sparked some acrimony.
Plaintiffs are seeking about US$350 million in damages — chump change for a company that rang up revenue of $42 billion and profit of $8.5 billion in its latest quarter.
"If I were Apple, I'd look at this, gauge the probability of a good outcome, and, if I thought in the long run it could be settled, do so and admit no guilt," said Mike Jude, Stratecast program manager at Frost & Sullivan.
"That will probably cost it less than what's being asked," Jude told the E-Commerce Times.
What Both Parties Say
Apple violated federal and state laws when it issued software updates for the iPod in 2006 that prevented iPods from playing songs not purchased from the iTunes store, specifically those purchased from streaming media firm RealNetworks' store, according to the three plaintiffs bringing the class-action suit.
The updates artificially raised iPod prices, they asserted.
Apple has monopoly market power, the plaintiffs' lawyers have claimed.
iTunes' market share in music downloading peaked at around 70 percent in 2010, said Barry Randall, technology portfolio manager for Covestor, who cited figures from Businessweek.
"That could fairly be described as 'dominant,' but not quite a 'monopoly,'" he told the E-Commerce Times.
There then were, and still are, multiple means for people to store and listen to downloaded music, and "Apple couldn't have abused a monopoly it didn't quite have," Randall contended.
Apple has denied wrongdoing, maintaining that the software updates improved its products, were good for consumers, and had no effect on iPod prices.
Apple's behavior "is defensible and legal in an antitrust case in the context of its strong market position," Randall remarked.
Apple's Choices
"Apple and its new management have to decide: Is it worth their while to fight the class-action lawsuit tooth and nail?" said Andreas Scherer, managing partner of Salto Partners.
The company could settle out of court.
That "won't break the bank, affect Apple's stock prices, or affect in any way the direction of Apple's investment strategy going forward," Scherer told the E-Commerce Times.
Fighting the suit "would essentially validate the Jobs doctrine," he continued. "It could save Apple some money and would signal everyone not to mess with them."
Jobs "probably had good reasons to configure iPods the way he did," Scherer pointed out.
Apple at the time was fighting several streaming media services, notably RealNetworks, which had developed a workaround that let songs purchased in its store be played on iPods. Apple back then accused RealNetworks of hacking the iPod.
The Jobs Effect
Steve Jobs' recorded testimony paints a less-than-flattering picture of the late CEO but does not add anything to what's already known about his behavior.
It might, in fact, prove to be a blessing in disguise for the company, Jude suggested. "Apple can claim that Tim Cook is the new, improved face of Apple."