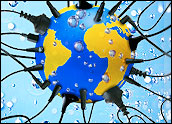 For U.S.-based retailers, running a successful global e-commerce business takes the right balance of strong local marketing and effective operations. While it is essential that retailers cater to local customer experience expectations, it is also critically important to abide by local laws and regulations.
Following are six recommendations on how to drive effective global e-commerce for retailers that are just starting to sell online internationally as well as those that want to refine their current global strategy.
Key #1: Understand the Region First
It is absolutely essential for retailers to find a local partner who can help them understand the regional business customs, the local consumers and their shopping preferences before they begin any e-commerce initiatives. There is simply no substitute for traveling to that region and experiencing it first-hand.
Business transactions are sometimes handled differently in a foreign country. For example, in China, deals are often sealed with a handshake rather than lengthy contractual negotiations and formal Request for Proposal processes.
Retailers also need to understand the government regulations and tax structures around e-commerce in the specific regions they are targeting well before they begin expansion.
Key #2. Find the Right Logistics and Operations Approach
Consumer expectations for logistics and delivery are often much higher in regions outside of the U.S. In fact, in the UK, consumers can often choose a specific delivery window around when they can receive packages.
Make sure you understand these expectations before you explore operational issues such as fulfillment.
Key #3. Know That Translations Require Local Support
It makes the most sense to use service providers to translate website and other types of promotional copy; however, retailers should have a local reviewer proofread the final copy before it goes live.
This is essential, as oftentimes U.S.-based service providers miss colloquialisms and other regional-specific terms that could accidentally offend or confuse foreign shoppers.
Key #4: Look at Currency Options
Up front, retailers should determine whether it makes more sense to have regional-specific catalogs with pricing in the local currency versus just offering a straight currency equivalent as well as tools that can handle currency conversion.
For retailers trying to expand into several countries simultaneously, it may make sense for them to use an international provider such as FiftyOne, which lets them drive international commerce without having a fulfillment center.
Key #5: Understand Payment Gateways and Processing Challenges
Collecting payment in different regions can be tricky, as there are often many hurdles to overcome in how payments are collected. Banks in foreign countries have different requirements for processing payments, and it can be very challenging to get international billing set up in a timely fashion.
Furthermore, payments are collected via different methods. COD is often used in Germany, and in other countries customers pay for their deliveries at their local convenience store. No payments are collected until the items are delivered. And the consumer has the ability to send merchandise back within 30 days without making any payments. In other countries, shoppers have to go to physical locations to finalize the payment process.
Because of these challenges, I typically recommend that retailers work with locally knowledgeable providers who can handle payment methods and process.
Key #6: Plan Global Strategy and Expansion Very Carefully
Up front, retailers should determine which countries to expand in and when, as well as how they prioritize this based on their business objectives.
For example, some retailers started aggressively expanding in Asia and other emerging markets before they fully understood the pros and cons of doing business in certain regions. Foreign expansion without careful analysis and planning can be a recipe for disaster.
It is also important to fully understand the competitive landscape in each country and what that means for your brand and product set. This type of understanding can often make or break how successful a retailer will be in a given region.