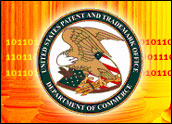 Just as the erotic adventures of E.L. James fill the book shelves, the Federal Rules promulgate a different form of torture onto Americans, willingly or not.
Pursuant to Congress' passage of the America Invents Act (AIA), the United States Patent & Trademark Office has been diligently formulating new rules governing patent procedures. Many in the patent community consider the AIA tending to harm the interests of small inventors and favor large corporations, which have far more resources to handle the new patent system under the myriad rule changes.
At present, final rules have been published in the Federal Register on various aspects of the AIA, such as most recently Preissuance Submissions by Third Parties. This is a procedure in which a third party may bring relevant materials to the attention of the patent examiner reviewing a patent application. Previously, patent applicants had complete secrecy in their dealings with the Patent Office, the so-called prosecution phase. With treaties and law changes, such submissions became permissible in certain circumstances and had to be within certain constraints of relevancy — e.g., a printed publication, such as a patent, predating the filing date of the patent application.
Now, almost any form of evidence can be asserted against a pending patent application, thwarting or at least delaying the case from issuing into a patent. Indeed, third parties can whip up a frenzy of objections to an application even on issues that have already been considered. For example, the new rules allow anyone to reconsider the relevance of cited prior art — i.e., art already noted by the examiner; quibble about various patent formalities even if already verified; and otherwise contest the pending patent in numerous new ways. Further, there are no limits to the number of such challenges.
The 'Publication' Pickle
Why should this be worrisome? Shouldn't patents be subject to review until grant? Putting aside the separate and serious concerns about sweeping post-grant challenges being implemented, these pre-grant challenges allow companies or malicious individuals to tie up a patent applicant with countless challenges. Some of these actions may be based on new items not before the examiner, thereby serving a potentially good purpose. However, some may instead rehash old references or issues, thereby perhaps improperly delaying the case.
All inventors — particularly, small inventor patent aspirants — are thus open to attack on an unprecedented scale, and a plethora of quibbles about all aspects of patenting can undermine each applicant. Now big companies can get into a flame war with references being cited against each other's pending patent applications, opening the litigation battle lines along a different front.
Emails, Internet postings and numerous other previously non-publication prior art can now be submitted by third parties, perhaps anonymously. Thus, electronic musings by an inventor, such as in an email or website, can be used to undermine the pending patent application — e.g., by it being a "publication" before a critical date.
The "publication" submissions can now be used to question priority to an earlier case, reopen issues of obviousness, and otherwise tell the examiner to reevaluate the entire case. The full contours of what constitutes a "publication" will be litigated for years.
The rule does require these third parties to provide a concise description of the asserted relevance of the submission to the application, including even "potentially relevant" materials. Although the rule indicates that three items may be submitted at a time, the fee for more is nominal. Further, there is no proscription on the number of such submissions.
Thus, one or more third parties may gang up on a particular patent applicant, their company, or their technologies to attack with abandon. Also, the Patent Office is determining how to alert applicants as to these filings. At present, it appears that the Patent Office will only send a notification by email to those applicants having an email account with the Office. Thus, these attacks may be unknown to less-diligent applicants.
Perverting the System, Punishing the Public
There are some time constraints to prevent third parties intervening toward the end of prosecution, but with many complicated inventions pending in the Patent Office for perhaps years, there is ample time to contest almost all cases. Of course, under U.S. law, some U.S. inventors have the right to maintain their patent application in secrecy until issuance — i.e., the pending application does not publish 18 months from filing and is not made public interim, but only if no foreign filings are made.
Thus, small inventors may immunize themselves from pre-issuance third-party attacks by filing only in the U.S. — unless they release the information, e.g., in licensing negotiations or corporate dealings. Thus, inventors should take care in revealing any filing information on their pending patent applications. Once the patent is granted, it of course becomes a public document and then subject to old and new post-grant challenges.
Lastly, there is a concern that the concise description may be too concise, where an examiner may, on the limited description of relevance, deem the citation not worthy of consideration, and not cite it. Thus, when a legitimate prior art reference enters this limbo, it is unclear who needs to act: the third party to resubmit with more description, or the applicant desiring to clarify the issue further.
In theory, the new rules can be used for legitimate purposes — e.g., to address materials that should be considered or address some oversight in the patenting process. This serves a valid societal function. But, as with various devices, the new rules can be used to pervert the system — e.g., filing numerous such challenges on cumulative prior art, delaying the patent application, complicating the patent applicant's life, thwarting the protection on a technology, and punishing the public by depriving them of the invention. As in 50 Shades of Grey, the third-party submitter has the upper hand.