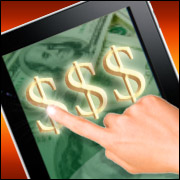 This story was originally published on Oct. 20, 2014, and is brought to you today as part of our Best of ECT News series.
While app developers generally aim to make money off their creations, this goal is often relegated to second-tier status by programmers who put the product first and foremost, as they should.
Therefore, in order to minimize the time needed to devote to a monetization strategy, developers generally choose one of the following tried-and-true methods. They can be mixed and matched to meet a developer's specific needs and revenue goals. Some are ideal for mobile apps, some are ideal for desktop apps and programs, and others work equally well across the board.
1. Freemium Model
The freemium model is the most common form of monetization. This method is also known as the "in-app purchase model."
This means that the app or software is free to download but only with limited features. Users who want extra features must pay to unlock them.
This method is especially popular in the gaming industry, where it has been fairly successful. For example, participants in action games who want certain advantages (eg. power-ups, weapons) may purchase them by paying real money.
This allows developers to distribute software for free, which vastly increases the number of downloads. It can be tricky to turn freebie-seekers into paying customers, but the effort often pays for itself in dividends.
2. In-App Advertising
Another common monetization model is in-app or in-software advertising, in which ads are placed inside apps. Usually they appear on a piece of the screen real estate or in-between screens (interstitial ads).
These ads typically earn income per thousand views or per click. Revenue generally varies based on the ad network, the type of ad being displayed, the targeted audience and so forth.
This monetization method is slightly less popular than the freemium model, though the two models are not mutually exclusive. They can be combined — for example, users can pay to remove ads from a free app.
In order for in-app advertising to be effective, there needs to be a very high number of people clicking or viewing the advertisements from the outset.
Statistically speaking, a larger percentage of users end up converting on advertisements than on freemium upgrades, but there is less revenue per conversion.
3. Paid Products
With so many free apps and software programs readily available online, it is extremely difficult to get people to purchase an app. Customers who will spend five dollars on a coffee won't spend a dollar on an app. Chances are that any given app developer will be competing against an app that is free or freemium.
When a company has the clout, marketing resources or market share, charging a fee is a top monetization strategy.
If a company is offering a niche product with nothing similar in the marketplace at all, then charging for the product may make sense. A company that already has a solid reputation and a strong following may have an easier time effectively charging for an app or a piece of software.
Products that are considered high-quality across the board, as well as game sequels, are two software programs that often benefit from this model of making money.
4. Pay per Install
Pay-per-install provides another way for developers to distribute their apps while making money. This approach is particularly effective for making money with software that's distributed on desktop platforms. However, there are platforms readily available for both desktop and mobile app developers.
Monetization with a pay-per-install program requires that the software be integrated with a smart installer. The best smart installers aren't just scripts; they are full platform solutions that are customizable to meet a specific software's needs and targets.
A developer can tailor the look and feel of an installer, pick and choose the products to promote, and advertise software through the network's partners. Analytics provide a 360-degree view of downloads, conversions and more.
5. Affiliate Marketing
Affiliate marketing isn't just for websites. Companies can design software and apps around affiliate deals. This can be a lucrative way to make money from an app or software program, but it can be both challenging and limiting.
If one wants to develop a software program and earn money from affiliate deals, the software needs to be designed for that purpose. Travel apps and websites are good examples of programs that use affiliate marketing to earn money.
It can be challenging to integrate affiliate marketing into a pre-made software program or app. A game or language-learning app likely would be better suited to in-app advertising or a freemium model.
Other Strategies
While these are five of the most popular monetization models, there are other creative methods of earning revenue, such as selling analytics, code or subscriptions. The greatest benefit of each of the above models is the ability to operate relatively independently.
Once an app is up and running, the monetization program basically runs by itself with just minor periodic updates. Companies can stack up apps over the long run: The more apps released, the more money generated.