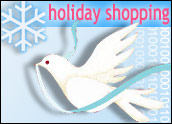 Some of the busiest shopping days are right around the corner, as more consumers wait until the final weeks before the holidays to cross everyone off their lists. With holiday online shopping numbers at an all-time high, retailers understand that the Web is a critical sales channel. What they might be overlooking, however, is just how influential social networks have become in the shopping process — both online and off.
Twenty-seven percent of last year's holiday shoppers were influenced in some way by social media, and social media will drive more holiday purchase decisions this year than ever, according to Opinion Research. As more consumers turn to the Web and their social networks for gift ideas, retail marketers should consider leveraging five tried and true social media strategies to maximize their online sales and promotions.
1. Use Location-Based Apps
Brands that are already active on Twitter and Facebook will have the most success leveraging social campaigns over the holidays due to their built-in fan base and followers, but brand marketers should not overlook the opportunities that exist within location-based applications such as Foursquare, Gowalla and even Facebook's new "Deals" feature.
Many retailers are already generating revenue by posting daily offers that can be redeemed locally. Adding location-based promotions is an effective way to drive in-store traffic and creates another touch point for consumer engagement.
2. Give the 'Wish List' a Makeover
Finding that perfect gift for someone can be a challenge, and shoppers oftentimes will turn to gift cards as a last resort. As an alternative, consider a new twist on the "wish list" feature on most leading e-commerce sites.
The first step is to make the experience of building the wish list more engaging for the user. For example, instead of calling it a wish list, get creative. If your target audience is made up of music fans, launch a poster or album cover creator — something that will resonate with consumers and be seen as less of a chore to assemble.
The most important element here, however, is making the wish list easy to share across Facebook, MySpace and other social networking sites. Enable individual items to be shared with Facebook friends for feedback or one-off "wishes."
3. Create Custom Shopping Experiences Online
Some of the most effective retail marketing campaigns are those that create truly personal connections with consumers. Great examples are those digital experiences that enable shoppers to try things on virtually — clothes, hairstyles, makeup — making the consumer part of the brand.
In order to maximize these experiences, take them a couple steps further. After a consumer interacts with the promotion, give them the tools they need to easily share their experience with friends in their social networks so they can join the fun too. Don't forget an enticing follow-up offer to seal the deal — a promotional code, coupon or other offer that will turn these branded experiences into sales.
4. Use Social Media Channels to Promote Time-Sensitive Deals
Retailers have been extremely successful using social media to broadcast time-sensitive deals as a way to reward their loyal customer base.
Post-holiday, these deal feeds are a great way to clear out the inevitable stack of returned merchandise. So, consider using your brand's Twitter feed (or creating a new one) as an auction mechanism for the post-holiday returns.
5. Be as Clear as Holiday Crystal
It goes without saying that retailers should try to make the holiday shopping experience as stress-free as possible. So when using social media channels to communicate with your customers, be sure to clearly articulate the value.
Be clear about what role each of your social community efforts is supposed to play — both internally and with your fans and followers. If it's to answer gift questions, then do that only. If there is another effort to address availability of gifts, make sure your team understands that.
Anticipate that if you create the impression or expectation that your social environment can help with holiday shopping, then customer expectations for you to deliver on that promise will likely be higher than at almost any other time of the year.
Not Too Late
While brands that are already active in social media will have the most success leveraging this channel for holiday marketing and promotions, it's not too late to test the waters by integrating a social media element into your existing holiday promotions.
Just be sure your social media efforts offer something of benefit to the customer, and you'll see the benefit to your brand image and bottom line.
---
Sam Cannon
is vice president and executive creative director at
Organic
.