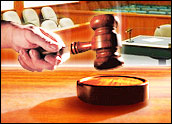 Users of the Internet and electronic gear are vulnerable to criminals near and far, but we don't always hear about what happens at court and whether the alleged criminals are convicted or acquitted.
Here is an update on some those crimes for consideration.
E-Waste Conviction for Exporting IT Gear
After an 11-day jury trial in Denver, members of the management of Executive Recycling were convicted of illegally disposing of e-waste overseas; mail and wire fraud; smuggling and obstruction of justice.
Executive Recycling falsely advertised to potential customers that it would dispose of old computers, PDAs, TVs and other electronic waste in compliance with all local, state and federal laws and regulations.
CBS "60 Minutes" reporters followed shipments from Denver to Hong Kong and broadcast their report, in 2009. The electronic gear sent to Hong Kong ultimately made its way to southern town of Guiyu, China. The show called Guiya "a sort of Chernobyl of electronic waste."
"Greenpeace has been filming around Guiyu and caught the recycling work. Women were heating circuit boards over a coal fire, pulling out chips and pouring off the lead solder. Men were using what is literally a medieval acid recipe to extract gold. Pollution has ruined the town. Drinking water is trucked in. Scientists have studied the area and discovered that Guiyu has the highest levels of cancer-causing dioxins in the world. They found pregnancies are six times more likely to end in miscarriage, and that seven out of 10 kids have too much lead in their blood," the report said.
The U.S. Department of Justice provided evidence that Executive Recycling exported more than 300 cargo containers from the U.S. between 2005 and 2008, and approximately 160 of these contained electronic gear. Sentencing is scheduled for April.
Arrest of Ceglia Who Sued for Part Ownership of Facebook
The FBI arrested Paul Ceglia for alleged criminal violations including fabricating evidence for a lawsuit to obtain a substantial interest in Facebook. Ceglia claimed he signed a contract in 2004for Web design for Facebook, entitling him to 84 percent of Facebook. The criminal complaint filed for mail and wire fraud includes allegations against Ceglia that he
filed a federal lawsuit falsely claiming that he was entitled to at least a 50 percent interest in Facebook;
has deliberately engaged in a systematic effort to defraud Facebook and Zuckerberg and to corrupt the federal judicial process; and
manufactured and destroyed evidence, for instance replacing a page of the original contract with a fraudulent one that made it look like Zuckerberg had offered Ceglia interest in the company.
Attorneys for Zuckerberg and Facebook "commend the United States Attorney for charging Ceglia with federal crimes in connection with his fraudulent lawsuit against Facebook. Ceglia used the federal court system to perpetuate his fraud and will now be held accountable for his criminal scheme," Computerworld reported.
In 2010, when Ceglia sued Zuckerberg, the Wall Street Journal reported about Ceglia: "In 2009, New York's Attorney General Andrew M. Cuomo accused Mr. Ceglia of defrauding customers of his wood-pellet fuel company, according to a news release from the Attorney General's office. The state claimed that he took more than [US]$200,000 from consumers and then failed to deliver any products or refunds. The wood-pellet case is ongoing."
iPad Data Breach Lead to Conviction
In November, a federal jury in New Jersey convicted Andrew Auernheimer of identity theft and conspiracy to gain unauthorized access to computers. In 2010, Auernheimer illegally gained access to AT&T's servers and stole "more than 120,000 email addresses of iPad users including New York Mayor Michael Bloomberg and film mogul Harvey Weinstein."
Auernheimer used his hacker name of "Weev" and at trial testified that he publicized the breach because "the consumer has a right to be informed when they're put at risk by a company."
In the meantime AT&T claims it solved the technology problem that allowed Auerheimer to violate their servers in order to eliminate future similar crimes.
Google Executives Acquitted
In 2010, an Italian trial court convicted three Google executives in absentia for failing to promptly take down a video which depicted teenagers who were bulling an autistic boy. Ironically, Google took the offending video within 24 hours of notice, but the trial court nonetheless convicted the Google executives.
In December 2012, an appellate court overturned the convictions, a move that was welcomed by Google and other ISPs who do not want to face criminal liability for content posted by users. Under the 1996 Communications Decency Act, ISPs do not have liability for content posted by users on their websites, but will have liability if the ISPs do not take down offending content once they are aware of its offensive nature. Other countries, including Italy, have similar laws, one of which was upheld by the Italian court.