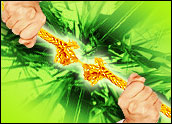 Yahoo is pressuring Facebook to pay licensing fees on several patents covering a variety of website functions like advertising, website personalization, social networking and messaging.
Yahoo has a responsibility to its shareholders, employees and other stakeholders to protect its intellectual property, Yahoo spokesperson Micheline Tang told the E-Commerce Times.
"Recognizing that, other major Web and technology companies have already licensed some of these technologies," Tang continued. "We must insist that Facebook either enter into a licensing agreement or we will be compelled to move forward unilaterally to protect our rights."
Facebook did not respond to our requests for comment for this story.
Money Can't Buy You Love
Yahoo's claims come as Facebook is preparing to go public with an IPO valued at $5 billion. The timing has raised suspicions that Yahoo's move is CEO Scott Thompson's gambit to mine every possible source of revenue.
"By postponing enforcement until just prior to Facebook's IPO, Yahoo likely hopes that the highly publicized event will raise the value of any settlement," Charles King, principal analyst at Pund-IT, told the E-Commerce Times.
"Yahoo is desperate," Lon Safko, social media entrepreneur and author of The Social Media Bible, told the E-Commerce Times. "Their revenue and their stock value have shrunk to nearly nothing. The only remaining asset they have is their intellectual property. They're trying to cash in on it."
This "is the best timing if you're going to try to make a play like this, and Yahoo needs cash and time to execute a turnaround," Rob Enderle, principal analyst at the Enderle Group, said. "The odds won't get better than this for winning."
What Patents, Exactly?
Yahoo has more than 1,000 patents, including 60 or so that it obtained when it purchased search-based advertising company Overture Services in 2003.
Overture was at the time a rival to Google. It claimed the patents to a system and method for websites to influence rankings within search results and used a pay-for-performance model that only billed advertisers when visitors to websites clicked on links.
Yahoo sued Google over technologies patented by Overture and received 2.7 million Google shares in a settlement of its claims in 2004 after a court battle. Google agreed to license several patents from Overture as part of the settlement.
It's not clear whether the technologies Yahoo claims Facebook is using are the same as those that sparked Yahoo's lawsuit against Google.
Fear Is the Key
Filing a patent suit doesn't necessarily pay off because "invariably some of the patents are invalidated, and discovery generally results in patent exposures the plaintiff has and didn't know about," Enderle told the E-Commerce Times.
"I have three patents that I have been trying to enforce for six years with more than 30 Fortune 500 companies with no luck, only $500,000 in legal bills," Safko said. No one will pay royalties until there's a court judgment, a process that "can take five or more years, with a starting cost of $3.5 million, and you never know how they will come out."
Defendants often spend their resources trying to get patents overturned and revoked because "that's the cheapest strategy," Safko disclosed.
Thus, anyone who files a patent suit "knows full well the strategy going into it is to never go through," Safko stated. "It's too expensive and you have a 50/50 chance of losing your own patents."
The intent behind filing a patent suit "is to always scare the defendants, catch them when they're vulnerable, such as just before an IPO, and get them to settle on the courthouse steps," Safko continued. "This way it's cheaper, it's a sure thing and it never has to go public."