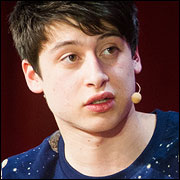 Yahoo has paid a reported US$30 million for Summly, a newsreader app founded by 17-year-old programming prodigy Nick D'Aloisio. The move makes D'Aloisio, based in London, both an instant multimillionaire and Yahoo's youngest employee.
The Summly app, which delivers 400-character summaries of news stories, will be shut down, but the technology will soon appear in Yahoo's mobile products, according to a post on the Yahoo blog from Adam Cahan, senior vice president of mobile and emerging products.
At least 90 million summaries have been read on Summly since it launched last fall. Shutting down the Summly app may cost Yahoo a ready-made base of millions of users.
"The question is whether Summly has more value on its own terms, via, say, app sales, or as a foundational technology that can be applied to other Yahoo services and solutions," Charles King, principal at Pund-IT, told the E-Commerce Times. "The company's decision to shut down the app suggests they believe the latter is correct."
Summly "is about personalized content delivery," said John Jackson, a research vice president at IDC.
"In this respect, Summly appears either complementary or supplementary to what Yahoo has tried to achieve with the CORE (Content Optimization Relevance Engine) feature of its Livestand app," Jackson told the E-Commerce Times. "Livestand aims to deliver personalized e-magazine style content. Like so many apps, it began life on iOS and logically found its way to the massively distributed base of Android devices."
Yahoo did not respond to our request for further details.
A Summary of Summly
The Summly app is a revamped version of Trimit, an iOS app D'Aloisio developed in 2011 when he was 15. Trimit was reportedly downloaded more than 200,000 times, and was featured as App of the Week in the Apple App Store in July 2011.
Horizon Ventures, the technology investment company of Hong Kong billionaire Li Ka-Shing, provided D'Aloisio $300,000 in venture capital funding in 2012. That led to more infusions of capital, including money from celebrities such as Yoko Ono and Ashton Kutcher.
A company was set up with veteran engineers, managers and a publicity team. Trimit was redesigned with help from the Stanford Research Institute. It was also renamed Summly.
Prior to the Yahoo purchase, Summly was working with News Corp. on summarizing the media giant's content.
Why Summly?
Yahoo CEO Marissa Meyer has refocused the company on mobility and personalization overlying a foundation of news. The company trumpets its association with NBC in sports, and has aggressively pushed into creating its own news sites.
The technology underlying Summly's app may fit neatly into these areas.
"Assuming the underlying technology is unique and robust, this sort of algorithmically driven approach to sourcing, aggregating, and delivering personalized, timely, and conveniently consumable information is something that could be applied in a broad variety of application contexts," Jackson said.
"News is a key area for Yahoo, so the acquisition makes sense from that perspective," Greg Sterling, a senior analyst at Opus Research, told the E-Commerce Times.
Personalized news and the mobile space appear to be the battlegrounds for online giants like Facebook, Google and Yahoo. Facebook recently revamped its Newsfeed for easier reading on mobile screens, increased the number of feeds and gave users more control over the content they want to see.
"If Yahoo executes well, this is the type of thing that could benefit a much broader group of users across a broader number of use cases," Jackson said.