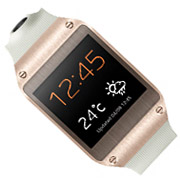 We've been hearing all about these amazing new smartwatches. They are the remote control for our smartphones. They make doing regular tasks quicker and easier. They are said to be the most exciting new product since the smartphone. If that's the case, then why have they not taken off yet?
Ah, the million dollar question: Are smartwatches going to be hot like the smartphone and tablet, or will they simply fade away like the netbook?
Yes, I see how potentially exciting the smartwatches from Samsung and LG are. Yes, I see why Apple and Motorola and countless others want to jump onto this space as well. The opportunity is huge — but is it a sure thing?
The question is simple: Will smart watches finally get hot or not?
Smartphone or Netbook Path?
The wireless PR machines are all running at full strength, so you would think the answer is a resounding "yes!" Then again, we thought success would come to the netbook a few short years ago, didn't we?
If you recall, the netbook — which is still around actually — never really became a top seller. However, right after the netbook emerged, Apple's iPad became very successful, followed by Samsung's Galaxy Tab.
The netbook missed, but the tablet hit it out of the park. So what can we expect next?
Today's smartwatches are good — just not different enough from smartphones. That's why only the very early adopters are buyers today. In addition, the current smartwatches are just not fashionable. They are not jewelry, like watches often are.
Some people do like to wear a nice Rolex on their wrist, not a mini smartphone. That means the market is much smaller than the traditional watch market.
However, the next generation of these smartwatches may surprise us. They will do more, and they also may be more fashionable. I see all the manufacturers and networks revving their engines.
If you recall, the first iPhone was exciting — but compared with today's version, it's a real yawn. The first Android smartphone, offered by T-Mobile, was so boring it put most people to sleep.
However, every year smartphones improved, both in design and technology. So, could we be in for a sequel with the smartwatch? The first versions are not very exciting, but as the first few years and generations pass, will the smartwatch get better — and even fashionable?
Perhaps.
Samsung's newest smartwatch is better than the first. It still has a long way to go before it starts attracting users in droves, but it is getting better.
Apple is not in the smartwatch business yet, but we are expecting its iWatch launch later this year. Apple may upset the apple cart with its smartwatch introduction.
Apple just hired Patrick Pruniaux who was Vice President for sales at luxury Swiss watchmaker TAG Heuer.
Apple has very recently hired Angela Ahrendts, previous chief executive at Burberry, to head its new retail and online sales.
Apple also has Paul Deneve, former leader of French fashion brand Yves Saint Laurent.
All of these are a major coup for Apple as it prepares to enter this new smartwatch space, and beyond.
Tech Jewelry
The Apple caterpillar may be getting ready to come out of it's cocoon as a butterfly: a new Apple brand and image. Imagine that.
Will Apple start to position itself as a luxury brand going forward? Will it create a new industry segment — something like tech jewelry?
It would give Apple a chance to lead a young industry segment once again. It would be so Apple. It would separate the Apple brand from the growing list of competitors.
Will Apple's smartwatch be marketed as a fashion statement? Or will it be another electronic device? Or perhaps a little bit of both in the tech jewelry space?
There has been an extraordinary amount of attention being paid to the entire smartwatch segment, and quite a bit of money and manpower spent as well.
There are no real segment leaders today, simply because there is really nothing that exciting yet.
The first efforts, by Samsung and LG, have been innovative, but are still a yawn. Apple and Motorola may enter the spotlight next.
Will the smartwatch become hot or not? As we get ready to enter the second year of this story, I get the gut feeling that things are starting to gel.
If smartwatch makers get this right, the segment could be as important as the tablet segment. Then, as these different devices sync and work together, they will attract a stable customer base for each handset maker and network.
It's important to remember that this industry continues to grow based on innovation. If we listen to the hardware makers and networks, the smartwatch is next in line.
Then the question will be, what comes after the smartwatch? Stay tuned.