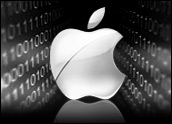 Almost a year and a half ago, I asked a simple question: Will Apple Still Be Apple Without Steve Jobs? At the time, the answer seemed to be a simple "no." Over the next couple of years, Apple would become just another competitor, I predicted — and unfortunately, that's exactly what is now happening.
Think of Apple as two different companies: One is a consumer electronics company that still has loads of happy customers; the other is an investment that's experiencing some performance problems. Customers may get lost in the fog of marketing la-la-land, but investors focus on the numbers. They simply want to make money, quarter after quarter.
Twenty years ago, Apple struggled. Then Steve Jobs came back, and the company started hitting the ball out of the park — first with the iPod, then following with the iPhone, iPad and iPad mini — wave after wave of success. During the boom time, investors saw Apple as a no-lose proposition. The stock kept rising as it continued to surprise and delight its customers.
Six years ago, RIM and Nokia were leaders in the wireless handset space. Then Apple changed the industry. Its touch seemed to turn everything to gold — it was like magic. Google also jumped in, and today phones running its Android OS actually outpace iPhones in sales. With Apple and Google dominating the market, RIM and Nokia saw their shares quickly erode.
The Apple of Fewer Investors' Eyes
Today Apple is still a strong consumer electronics company, but it's suddenly having problems on Wall Street. As I have said many times, every company and every product rides a wave. The wave grows, levels off, then ultimately declines. Some waves are long and others are short.
Apple always started another wave with new products, even as existing products were riding high. If nothing had followed the iPod, it would have ridden that wave up and down again, but it created the iPhone wave, then the iPad wave, and so on. So the question always asked of Apple was: What's next? After all, there was always something coming next.
After Steve Jobs passed away and Tim Cook took the reins, however, Apple changed, but it has taken the past year and a half for the truth to settle in. Apple is still selling loads of devices, and customers still love them. The company is still strong. In fact, any other company would be drooling over the prospect of such great revenue and profitability.
The problem is simply that Apple is no longer meeting expectations — which, for Apple, means consistently blowing away expectations. It seems to have lost the magic that guaranteed customers would always be delighted and investors would always make money. Apple has become a victim of its own success, and the shine is starting to fade.
During the last several months, Apple hit a dry patch. It has not been selling devices in the numbers Wall Street expected, and that is enough to cause investors to flee. That reaction may not make sense, but Apple isn't allowed to play by normal market rules. The bar is set higher for Apple than for any other company.
Apple's Next Chapter
What about Apple's future? Can it recapture its spectacular growth and stock performance? Perhaps, but without the Steve Jobs' magic, it may be that its growth wave is starting to crest, and it doesn't have another star act to begin a new one.
Apple will have to change. It will have to start marketing and advertising more. It will have to start talking to the marketplace in a different way than it has had to in the past. It will have to start acting like a normal company — one that doesn't have an automatic glow. Can it succeed like that? No one knows yet. Many die-hard supporters say yes. Many others say no.
A year from today, we will either be looking at a recovered and thriving Apple, or the company will be struggling as it is today — or things could be worse. It all depends on what Apple has up its sleeve — and on that, your guess is as good as mine.
Hmm. Sounds like the same thing I've been saying about RIM — which just changed its name to "BlackBerry" — and its new BlackBerry 10 OS. I wonder if there is a connection?
One thing is for sure: Apple is a different company from the Apple we knew with Steve Jobs at the helm. Don't expect the Apple of the past to show up again. That chapter is over.
Competitors like BlackBerry, Microsoft and Nokia are gearing up for a very big battle against Apple and Google's Android partners this year. Will the industry change once again?
The real question is this: Will Apple move forward as a company both consumers and investors can love? That depends on what Tim Cook has up his sleeve. We'll find out soon enough.