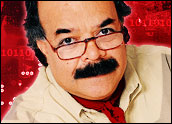 You may think that you have absolute ownership of your brand, yet if your name identity is shared with hundreds of other products, services or companies, then your brand ownership is hardly absolute.
What's the point of brand-building if you are simply brand-sharing? Global icons like Sony, Rolex or Microsoft are completely unique around the world; there is no dispute concerning who owns these brands.
Why is it so difficult for other brands to achieve this global respect and position?
Sometimes, corporations attribute brand confusion to inattentive customers. They spend money to hire agencies that can come up with advertising campaigns — yet, like a fireworks display, the result is often little more than noise and flash.
PriceWaterhouseCoopers' infamous name change to "Monday" cost US$60 Million. Similarly, Deloitte spent $60 million to rebrand its consultancy as "Braxton." The "Accenture" brand cost $170 million. Without uniqueness, a brand name won't survive.
What Makes a Great Name?
For a great brand name, consider something short, sweet and simple, like "Sony"; something highly related to the product or service, like "Microsoft" or "PlayStation"; something that can be protected globally, like "Rolex."
Without such qualities, a brand is little more than a name. Healthy brands attract customers en masse, while weak ones repel discreetly.
If you have a super brand, then let the whole world see it. If you have absolute 100 percent global ownership of that brand, then prove it. A quick search on Google will get you started.
Many of today's best-known brands may still be threatened by a lack of exclusivity. They may have logos, unique designs, colorful executions, banners and billboards, but as long as there are similar and identical name brands in the marketplace, they do not have 100 percent ownership.
Often, when a naming scheme is successful, it spawns imitators. For a time, the letter "A" was trendy, spawning such brands as "Altima," "Achieva" and "Avaya." Does this mean we should start discussing prospects for the rest of the alphabet? Please don't. Corporate branding is a very serious issue and is not a question of simply throwing together a bunch of letters.
Heard Round the World
Despite language differences, brands must be international. Marketing, like the Internet, is borderless. It is naive to be smug about a successful national or regional name identity while ignoring its lack of functionality in neighboring countries or overseas.
We are now living in a name economy, where the power of a nation is being measured by its armies of name brands. Corporations are fully engaged in the world market, which demands names that can travel freely from country to country without worry over translation issues or marketing to a foreign culture.
The question is, why are so many business names so dysfunctional and poorly chosen — especially when they cost so much in advertising and eventually end up going nowhere? Does this explain why there are endless name changes?
Pick a good name, own it, back it up with quality — then keep it.
---
Naseem Javed
is recognized as a world authority on Corporate Image and Global Cyber-Branding. Author of
Naming for Power
, he introduced The Laws of Corporate Naming in the 80s and also foundedABC Namebank, a consultancy established in New York and Toronto a quarter century ago. Currently, he is on a lecture tour in Asia and can be reached at
[email protected]
.
---