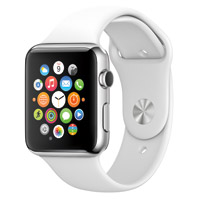 The Apple Watch is not a watch. So what exactly is it? Or for that matter, what is any smartwatch from any other maker? No one has done a good job of creating a brand identity for the new segment yet. That leaves the space wide open.
Rather than think of the smartwatch as a watch, we should think of it as a smartphone extension. It just happens to be strapped to your wrist, looks like a watch, and tells time along with many other things.
However, even though these devices tell time, they are not watches. They work through the smartphone on our belt or in our pocket. In fact, they are sort of like what cartoon character Dick Tracy wore for communication.
This is a brand new category. So far, no one company has done a good job of defining and owning this new space. However, riches and glory will go to the company that can do that.
Wide Open Category
What do I mean? Hachoo! Excuse me. Thank you for giving me a Kleenex. Did you know that "Kleenex" is not the brand identity? "Tissue" is the brand identity. However we think of "Kleenex," which is just one of the competitors.
That's a powerful marketing victory for Kleenex the tissue maker. Remember, it is just a tissue, but we think the entire category is called "Kleenex." That's a big win.
That's the same powerful opportunity we see before us right now with this smartwatch space.
Having a brand identity is crucial for the success of any new category. The Apple Watch was introduced last week. There are already other competitors in this new space, like the Samsung Galaxy Gear S, Motorola Moto 360, LG G Watch R, Sony Smartwatch 3 — and more are joining all the time.
This activity is all good, but no one has really created a brand identity for the smartwatch or for its brand name yet. One company eventually will do this. The question is which one? And what will it be?
The next question is will the smartwatch impact the watch category?
Any watchmaker will tell you the truth. There are regular watches, which the vast majority of people wear to tell time. There is also a luxury market, which consists of timepieces that are fine jewelry or collectibles. In fact, the luxury Swiss watch market reached US$23.3 billion in 2013.
Most people don't wear multiple watches on their wrists. They choose one.
I don't see the luxury watch market being affected at all by this smartwatch revolution. Luxury watches are collectible.
Smartwatches will be traded in and updated on a regular basis — the same as we do with our iPhones and laptops.
No Emotional Connection
Over the last few decades, I have acquired a few Rolex watches. I enjoy them, but all they do is tell the time and look good. However, they remind me of the times in my life when I acquired each. They mean something to me when I look at them to see what time it is. There is a sentimental connection to each and to the memories they bring — and I will pass them on to my children when the time comes.
I don't feel the same way about my laptop, tablet or smartphone. I trade up all the time. They are like my TV set. There is no emotional connection to technology, since we trade up on a regular basis.
That's how I think of the smartwatch. Even the nicest Apple Watch with real gold trim won't ever match the life and collectible experience of a Rolex or other fine watch.
On the other hand, I believe smartwatches will find a market with a slice of the consumer pie. They will compete with regular watches.
As for market share, the smartphone is king. Tablets are less so, and smartwatches even less — at least for the foreseeable future. They will be very popular, but only with a slice of the market. We just don't yet know the size of that slice.
Smartwatches could disrupt the ordinary watch market, and they could find their way to the wrists of many in today's market who don't wear a watch.
Then again, if that happens, perhaps competitors in the ordinary watch market will embrace the smartwatch idea and start to integrate the technology into their watches over time.
Smartwatches could indeed transform this segment of the watch market. Who knows? Perhaps years from now, Rolex and other watchmakers will partner with Apple or Samsung, or any of the other smartwatch makers, and put certain features into certain watches.
Crazier things already have happened. Just remember, the smartwatch will not transform the entire watch industry, but it will change one slice of that pie.
Only the Beginning
Think of how automakers are partnering with wireless carriers to bring wireless connectivity to the car and the dashboard for information and entertainment, for example. AT&T Mobility is the leader in this space; however, Verizon Wireless and Sprint also are players.
I do see a market for smartwatches — but it's not the market we think about when we use the word "watch." I wish the industry had thought of a different name so this wrist-based technology could expand the brand identity without confusion.
There are many ways these new smartwatches eventually will change the marketplace.
Cannibalization is one way. The smartwatch will cannibalize a portion of the tablet market. Just remember, it's best that companies like Apple cannibalize themselves rather than losing business to the competition.
Apps are important. Users won't think these smartwatches are useful until they can do things — many things — through apps. I do believe the app market will rush to Apple, Google and Samsung.
These smartwatches are starting life working with their own smartphones, but over time they could expand to work either independently or work with other manufacturers' devices. If that happens, it's years ahead.
The smartwatch industry segment will continue to grow and change over time. We are just in the very beginning, and there will be quite a bit more that this industry will grow into.
I don't see smartwatches affecting the luxury watch market at all. They do have the potential to impact the lower end watch market once the price lowers — and we may see smartwatch features included in many plain watches in the market today.
So buckle up and keep your eyes on this market segment, because there's more to come.