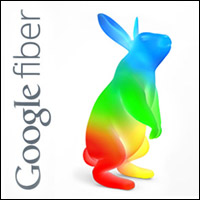 A couple of years ago, one of the hottest new technologies was Google Fiber. Everyone was talking about it. Everyone wanted access to it. Every city wanted to be the next on the list to get it, because it would attract new citizens and encourage existing residents to stay.
It was thought there would be an advantage to early cities — Atlanta was one of them. I live in the Atlanta area, so I can speak to the current state of Google Fiber in my home town.
Google Fiber is an ultra-fast Internet service. Upon its launch, the expectation was that the first cities to get it were going to have an advantage in the marketplace. However, two years have passed, and it seems that no one is talking about Google Fiber any more.
What happened? Is Google Fiber really coming or not?
Google Fiber first appeared when there was not enough high-speed Internet. I wrote at the time that I didn't think they Google really intended to do anything other than shake up the industry. I believed the company's goal was to get the current players to up their game and roll out ultra-fast Internet services sooner.
AT&T and Comcast Took the Hint
That is exactly what happened. In the Atlanta market, for example, both AT&T and Comcast have been rolling out ultra-fast, gigabit speed Internet in a rapidly growing footprint.
I believe AT&T is rolling out gigabit-speed Internet service in more markets around the country than any other provider.
In that case, is there really a need for Google Fiber? Perhaps not. However, it has not closed up shop. It did what I thought it was supposed to do. It nudged the marketplace, and the top competitors rose to the challenge and have been rolling out gigabit speed Internet service across the U.S. at a rapid clip.
The Strange Silence Around Google Fiber
Since its launch, we have not heard much about Google Fiber. It seems to be fading into the sunset. So, what is its current state?
Google Fiber was introduced in Kansas City and its 20 suburban areas. The next cities and metro areas to receive the service would be Atlanta; Austin and San Antonio, Texas; Provo and Salt Lake City, Utah; Charlotte and the Triangle, North Carolina; and Nashville, Tennessee.
The excitement level was super high, and other cities wanted to be next on the list. It was very similar to what's been happening in recent months with Amazon's search for its HQ2 city. The companies dangle their prizes and watch cities try to run faster and jump higher to win.
While contests like this make great media coverage, is there really a there there? Will Google Fiber really roll out across the U.S. or not?
Is Google Fiber in It for the Duration?
I want to believe. I want Google Fiber to move in, compete and offer services. I know it is available in a very few other cities to one extent or another. It's just that with all the hoopla, I expected a lot more a lot faster. After several years of patiently waiting, I still see nothing.
At this point, I wish Google Fiber simply would make its plans public. Does it intend to be a real competitor in the high-speed Internet space, or is its plan simply to nudge existing providers to move faster?
The uncertainty is getting frustrating. Going forward, if Google remains quiet, I believe it will only hurt its own brand value. It needs to be crystal clear about its intentions and its progress. Is it going to be a player in this space or not? And if it is, where is it in the process? Many think it should have arrived already. What's the holdup?
Google Fiber has been moving very slowly. As far as I can see, Google has made no effort to issue updates on its process. The question persists, and it has been getting louder and more urgent. So, Google Fiber, will you be a real competitor, or will you quietly fade away? That's the simple question many would like the company to answer.