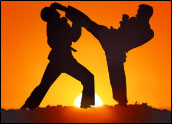 Corning Gorilla Glass, which resists scratches and breakage, is the leader in providing the protective layer on smartphone screens. For a while, it appeared as though Sapphire might pose a threat, but no more.
In the meantime, Corning has introduced Gorilla Glass 4, which is the best to date.
Every Apple iPhone and every Samsung Galaxy phone uses Corning Gorilla Glass. That means Corning dominates roughly 80 percent of the U.S. market and even more worldwide. Not too shabby.
As the smartphone segment continues to grow, and as most of us upgrade to the new models, time and time again, there is an enormous growth opportunity for Corning.
However it's important to keep things in perspective. Overnight, companies can go from obscure to leaders — and back to obscure again when the next big idea emerges.
That's why it's so important for companies like Corning to continue to innovate and fight every day to remain a leader in their space. There are others targeting them every day.
Don't Get Too Comfortable
There are no long-term guarantees in this segment of the tech space. That is what Corning learned when it appeared that Sapphire might snatch away some of its market share. Fortunately for Corning, that threat fizzled.
Today, Corning still produces the best glass in the business. However, the Sapphire story might have turned out differently. For Corning, it was a warning shot that hopefully woke up every company executive.
Every leader in every space faces the same threat — so every executive at every company should be reminded of how important it is to stay innovative and relevant.
When the Sapphire threat loomed, Corning execs knew they could not rest on their laurels. Every smartphone is judged on its innovation year after year, so it's vital that every part of every smartphone get better year after year.
The brand new Corning Gorilla Glass 4 is a hit. It's stronger and longer lasting than earlier versions, which were also best of breed when they were released.
Awake and Alert
Success is great — but remember, every coin has two sides. Risk of loss is the other side of the success coin. The more successful a company becomes, the more at risk it is when a new competitor tries to swoop in with a better idea that could change the marketplace overnight.
Recall that until the 1990s, Motorola led the cellular handset business. Then Nokia and BlackBerry ground Motorola into the dust.
Seven years ago, the marketplace changed once again when the first Apple iPhone, and a variety of phones running Google's Android OS, hit the streets. They quickly took the lead, leaving both Nokia and BlackBerry stuck in the mud.
At their heights, Motorola, Nokia and BlackBerry did not seem to be companies that could lose it all, practically overnight. They were successful industry leaders. Yet they all lost their leadership positions.
They were asleep at the switch. Since then, all three companies have changed dramatically. Motorola was acquired by Google and then by Lenovo. Nokia was acquired by Microsoft. BlackBerry went private. Today, they are all run by new management teams.
That's why I am pleased to see Corning not only dodge a competitive bullet, but also develop a better product. Today, Corning is still Corning.
The story is not over, though. Corning has felt the same kind of threat that other leading companies have faced. Even though Sapphire failed to gain a purchase, Corning must work hard to retain leadership through innovation, acquisition, or whatever tools it has on its belt.
So congratulations Corning for your accomplishments to date. Congratulations on Gorilla Glass 4. Well done. Now, what's next?