Walmart on Monday announced it will release all 2,000 Cyber Monday deals at 8 p.m. EST Sunday.
That and other retailer moves are making it look as if Cyber Monday might be a nonevent this holiday season: Amazon is running an eight-day Black Friday sale that will take it through Cyber Monday, leading Walmart to launch a price-matching event to compete.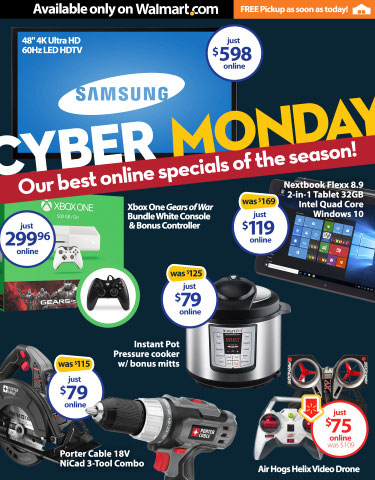 "We are listening to customers and letting them lead us," Walmart spokesperson Ravi Jariwala said. "Whenever they want to shop, we'll be ready with great deals, great prices and a simple shopping experience."
The pre-emptive release "reflects a shift in consumer appetite for Cyber Monday," he told the E-Commerce Times. When Walmart released "a handful" of Cyber Monday specials on Sunday last year, "traffic jumped 60 percent above trend and mobile spiked more than 75 percent above trend."
Many retailers have launched deals early, Leslie Hand, VP at IDC Retail Insights, pointed out.
Costco "had a record number of customers lined up at store opening time to seize the opportunity on deals launching Friday, Nov. 21" last year, she told the E-Commerce Times.
Walmart's Holiday Hustle
Walmart will kick off Cyber Week on Saturday, making key items available for in-store pickup.
It will offer three times the number of "Star Wars" toys and 4K TVs, 15 times more drones, and 350 percent more 3-D printers and accessories as it did last year. Demand appears strong for these items.
The store chain also will bring back the "Evening Edition," launched last year on the evening of Cyber Monday. That lets customers who couldn't shop Sunday evening take another crack at getting what they want Monday after work.
Christmas in July
The disruption of the market by online sales is one of the factors driving retailers to seek any means necessary to boost sales.
Amazon has beena major market disrupter, and traditional store chains are struggling to compete. Take, for example, its eight-day Black Friday sales event, during which the company offers new deals every five minutes.
"Customers generally will not look for new promotions every five minutes, but it does make sense for other retailers to observe and assess whether these price shifts deserve responsive action on their part," Hand said.
"Omnichannel retailers have a difficult time maintaining price consistency since it is not always feasible to change prices on an intraday basis, [and] in some cases, letting Amazon win the sale with the associated impact to profitability may be the right thing to do," she added.
Indeed, while traditional store chains have been offering their products online in a bid to compete, they have been crushed by the Bezos behemoth, which dominates online sales.
RIP, Cyber Monday?
Is Cyber Monday dead? Should retailers find some other day to promote sales?
"I expect sales to be more level and, therefore, more seasonably predictable this year," said Paula Rosenblum, a managing partner atRSR Research.
At least 48 stores have decided to close for Thanksgiving, according to Forbes.
Thanksgiving sales "are not profitable sales; they're just noisy," Rosenblum told the E-Commerce Times.
The holiday season as a whole will be grim, Morgan Stanley has predicted, partly because consumers haven't spending much on apparel apart from sportswear, and partly because this is expected to be a particularly warm winter, which could cut seasonal sales.
Meanwhile, mobile payments, which were widely expected to take off this year, might take a hit instead.
Only 14 percent of adults who use a smartphone or other handheld device will use mobile payments, 39 percent will pay in cash, and 31 percent will use a debit card,Bankrate.com found. Another 22 percent will use credit cards, and 3 percent will use checks.
However, "people might say they plan to pay for the bulk of the holidays with cash and debit, but that doesn't necessarily mean they will," Bankrate.com analyst Mike Cetera told the E-Commerce Times.
The main reason people are avoiding mobile payments is concerns about security, according to Bankrate.