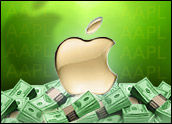 Their fears confirmed, investors were bearish on Apple Wednesday, the day after the company reported its slowest-growth quarter ever. The company's shares closed the day at US$93.44, down 6.55 percent.
In its Q1 earnings report, Apple prepared investors for what may come next: its weakest quarter for iPhone sales in 13 years. Even worse is that the company may not see a significant boost in handset sales until the launch of the iPhone 7 later this year.
Apple moved about 74.8 million iPhones during the quarter that ended in January, and the company forecast sales of between 50 and 52 million units during the three-month period that will end in March.
The news of Apple's slowing growth came on the heels of reports detailing the rise of Alphabet, Google's recently formed parent company, valued at around $500 billion.
For now, Apple is still the world's most valuable company, with a valuation of around $562 million.
Apple reported that it sold about 16 million iPads and 5.3 million Macs in Q1 — down about 25 percent and 4 percent, respectively, from the year-ago quarter.
Keeping the Faith
Taking note of the general saturation of the smartphone market, many investors have been turning to Alphabet, Facebook and Amazon for growth. However, those companies rely on ad revenues, which could prove more volatile than Apple's handsets reliance.
Though hardware accounts for more than half of Apple's business, the company has been pivoting toward services, noted Larry Chiagouris, professor of marketing at Pace University's Lubin School of Business.
That should count for something with investors, he said.
"Its ecosystem, to include iTunes and iCloud services, are either already dominant or possibly on the way to being dominant, and so this is not the time to lose faith in the company or its stock," Chiagouris told the E-Commerce Times.
The current perceived loss of faith likely is a byproduct of the times, he suggested. In a connected world, speed rules and investors don't hesitate to look elsewhere for growth when a company stumbles.
Also, investors are more influenced by media reports today than they were a decade or two ago, Chiagouris pointed out.
"All the reporting as of late has been on iPhone sales slowing, and so investors are reacting to these reports," he said. "The more important fact is that, ultimately, hardware companies always confront shrinking margins as the products that they make begin to become less differentiated or even commoditized."
Too Big to Fail
Paradoxically, investor disappointment might be a consequence of Apple's historic rise to become the most valuable company in the world and its position at or near the top of any list of most-respected organizations, suggested Ritch Blasi, president of MediaRitch.
"By continually overachieving in offering innovative products and services, and outperforming financial targets, it has become a darling of investors," Blasi told the E-Commerce Times. "Apple's latest numbers are viewed as not quite up to snuff, and the financial markets are feeling jittery."
While investors may want to hedge some of their bets by looking elsewhere, it would be premature to count Apple out, he said. The company didn't become this powerful by chance.
"While it may never again have the impact magnitude it did when introducing the iPhone," said Blasi, "expect Apple to rebound from this financial burp and continue on its course of changing the way we work and live."