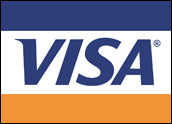 Visa this week announced the Visa Ready Program for Business Solutions, a strategic framework to help ensure that tech companies integrating with Visa's B2B payment services and data solutions meet the company's standards and are market ready.
The program lets Visa's tech partners quickly integrate and approve various Visa B2B payments solutions, including enhanced data, virtual card integration, payables automation, and payment controls. It lets partners quickly introduce devices, software and solutions that can initiate or accept Visa payments.
Participants get access to Visa's tools and services, including the Visa Developer Platform, to help support development of innovative commercial payment solutions.
Initial Partners
Partners approved by the program may use the Visa Ready mark on their websites and marketing collateral, and are highlighted in the Visa Ready Solution Directory.
The idea appears to be to build an ecosystem of partners that enable online B2B commerce and, not coincidentally, drive business for Visa.
The first partners to get approval are Bora Payment Systems, Bottomline Technologies, CSI GlobalVCard, MineralTree, and Priority Payment Systems' Priority Commercial Payments.
Bora's Buyer-Initiated Payments architecture is integrated with Visa Supplier-Initiated Payment APIs to deliver faster, more automated and more streamlined corporate payments;
Bottomline's Paymode-X payment network is interacted with Vis Payable Solutions commercial card solution;
CSI's globalVCard paysystems platform's integration with the Visa API lets Visa financial institutions offer electronic accounts payable (A/P) solutions;
Priority Commercial's integration with Visa B2B APIs lets Visa financial institutions expand frictionless virtual card and straight-through-processing payments; and
MineralTree's A/P and payment automation platforms integration with Visa using Visa APIs lets middle-market organizations drive more invoice payments to virtual cards.
Visa also offers Visa Ready Programs for mobile point-of-sale (mPOS), Internet of Things, and cloud-based payments providers. The company last week announced more than a dozen Visa Ready token service partners for the consumer IoT payments field.
Haywire in a Heartbeat
Research suggests that most organizations are moving to electronic payments and invoicing rapidly, but they must be high-volume, low complexity, medium-sized deals, noted Ray Wang, principal analyst at Constellation Research.
The average merchant works with five-to-13 B2B systems. "When they work fine, it's not a problem, but when you have a business model change, an exception like a refund, or you have a dispute, things can go haywire in a heartbeat," Wang told the E-Commerce Times.
"Visa's smart to launch a partner program for its B2B payment solutions," said Andreas Scherer, managing partner at Salto Partners.
"There's a plethora of different e-commerce solutions that would be impossible to match with in-house development efforts," he told the E-Commerce Times. "A strong program that certifies technology partners building solutions that integrate Visa's core technology is much more promising."
However, it solves only a small part of the problem, Scherer said.
Small companies handle B2B transactions in a variety of ways, and "the Visa Ready Program for Business Solutions will do little to overcome this any time soon," he pointed out.
"What the industry needs right now," said Constellation's Wang, "is someone to come in and provide orchestrated engagement in payments, and Visa's in a good position to attempt this."
The Competition Is Coming
Expect similar programs from competitors, Wang suggested. "China's got AliPay. Amazon can easily do the same thing, as it's providing financing to some manufacturers and brands today."
We're at the dawn of a payments revolution, he remarked, and "large card issuers like Visa are running scared and must show some innovation."
Opportunities for mobile operators, software companies, commerce vendors and others to disrupt traditional places like Visa are huge, said Wang, so "we'll keep seeing massive innovation in the payments sector from a variety of upstarts."