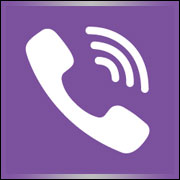 Viber on Monday launched v4.1 of its eponymous VoIP chat application. It includes Viber Out, a feature that lets users call anyone mobile phones or landlines anywhere. Calls to other Viber users are free; otherwise, a fee is assessed.
The company also unveiled additions to its line of stickers.
Viber, which has 200 million or so users, is targeting Skype, which had 250 million users back in May of last year and is aiming for 1 billion.
"Viber's user base is not bad, but it's not going to beat out Skype," Ronald Gruia, director of emerging telecomms at Frost & Sullivan, told the E-Commerce Times. "It's a very fragmented market, and you've got many different chat apps out there, so the competition is rough."
What Viber Offers
Viber's app works on the iOS, Android, Windows Phone, BlackBerry, Nokia and Bada mobile OSes, and it is also available for Mac and Windows desktops.
Users can make calls or send texts and messages to other Viber users for free.
Viber Out is currently available on iPhones and Android devices. Support for other platforms is coming soon.
Cheap Is What You Make of it
Viber makes much of the fact that its charges for paid calls to mobile devices start at 1.9 US cents a minute while Skype charges 2.3 cents a minute, but that doesn't necessarily make its service less expensive.
"You have to make sure to compare apples to apples," Gruia pointed out. "Your cost will depend on where you're calling and whether you use your mobile or landline, and call a mobile device or someone's landline."
For example, calling a UK landline will cost 1.9 cents a minute, but calling a UK mobile device will cost 5.9 cents a minute, Gruia said. Skype, on the other hand, charges a flat 2.3 cents a minute for any device.
"It's pretty significant that Viber can beat Skype in certain types of calls, because price-sensitive users will flock to them," Gruia said. "On the other hand, they'll have to make up for that by increasing the number of downloads and widening their user base, which is one of the things that's still tricky for them."
Playing Against the Competition
Skype is overall a better established service with more features, while Viber only has stickers and Viber Out as its monetized services.
Competitors to Skype and Viber abound. The better known players include WhatsApp, LINE and WeChat.
"I would consider these opportunistic applications," Jim McGregor, founder and principal analyst at Tirias Research, told the E-Commerce Times.
"As the market changes, so will the technologies and business models employed by the major players, including Internet service providers, communications carriers and Internet companies," he continued. "Eventually these players will likely be the source of [new] solutions, but they may acquire these small guys for access to their customer base and/or technologies."
The fragmented market makes it difficult to compare the players equally.
However, Viber "does have a loyal base of users. Their app is very user-friendly, and that's what resonates," Gruia said. "The user experience is very important."
Viber ranks "probably fifth or sixth among the top 10" players in the VoIP chat market, he added.
"They may not be the first ones to have an idea, but they're what we call smart followers, learning from others' mistakes," Gruia said. "Also, they're diversifying themselves and trying to monetize their service in different ways."