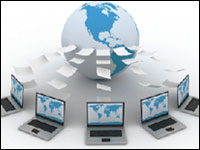 A major information technology trend within the U.S. government is the gradual — and apparently inexorable — migration of federal IT resources to cloud platforms. As the potential for federal cloud adoption has grown, vendors have intensified their marketing and improved their offerings to meet the emerging IT requirements of government agencies.
In a chicken-egg fashion, it seems that each round of federal cloud acquisition activity has spawned a parallel response from technology vendors. Or, conversely, as vendors have boosted marketing and product development efforts, government agencies have found more attractive offerings that meet the characteristics of the federal market.
"Compared with other industries, the U.S. federal government has been slower to adopt cloud. However, government agencies are facing the combined struggle of exponential data growth and tight or diminishing budgets and are viewing cloud as the way to transfer more workloads to lower-cost platforms, such as Infrastructure as a Service (IaaS), often without acquiring significant resources," Adelaide O'Brien, research director at IDC Government Insights, told the E-Commerce Times.
Spending Draws a Crowd
In a recent IDC report, O'Brien assessed the vendor landscape in the federal cloud market.
"For many organizations, cloud serves as a lower-cost method of providing email and Web services. The U.S. federal government spent approximately US$3.4 billion for cloud in fiscal 2014, and IDC estimates that this will grow to almost $10 billion by 2018.
"Some agencies have been more aggressive than others," O'Brien said. "For example, the Interior Department released a ten year IDIQ contract for cloud hosting services, awarded to ten solution providers with a cap of $1 billion via task orders through the life of the contract," she added.
With the federal market now growing at a good clip, the opportunities are drawing a crowd of vendors. O'Brien notes that competition will be strong, largely falling into three major categories of providers: system integrators, cloud-centric providers, and telecoms.
"We recognize and welcome the highly competitive nature of the federal cloud market," Tim Meehan, government senior vice president at CenturyLink, told the E-Commerce Times. The company recently increased its federal cloud presence through a General Services Administration (GSA) vehicle.
Product Strategies
In just the last several months, vendors have reacted to the increased potential for federal cloud business with offerings aimed at displaying a competitive edge. Among vendors who have recently initiated product enhancements are:
SAPThe company launched a secure federal cloud offering last October that will address "all dimensions of the cloud model, including support, operations and delivery," SAP said. The offering is designed to mesh with the SAP Business Warehouse product and custom applications on the SAP HANA Cloud Platform, SAP noted. The offering will comply with National Institute of Standards and Technology security parameters, as well as data sovereignty and citizenship restrictions inherent in the delivery of cloud-based services to federal, civilian, and defense agencies, according to SAP.

The company will ensure compliance with the Federal Risk and Authorization Management Program (FedRAMP), as well. "SAP cloud solutions will empower federal agencies to achieve their missions and they will be self-assured that the services they receive from SAP have been approved by GSA's FedRAMP PMO," Dante Ricci, global public services and healthcare marketing lead at SAP, told the E-Commerce Times.

CenturyLinkIn a December 2014 notice, the company said it added its cloud data center service, an IaaS product, to GSA's Networx Universal contract. Networx is a multi-year, multi-billion dollar contract vehicle for telecommunications capabilities designed to bring network solutions to federal agencies at the lowest possible price, according to the GSA.

CenturyLink's offering includes virtual and dedicated platforms and provides a secure multi-tenant public cloud solution, the company said. The service provides connected public, private and hybrid cloud solutions that support the on-demand computing, storage, platform and application needs of large and small federal agencies.

Meehan noted that the company's current federal cloud offering is "in process" with the FedRAMP protocol for addressing security objectives. "By providing cloud and managed hosting solutions over its carrier-class network, CenturyLink offers federal defense and civilian agencies the security, availability and reliability they need," Meehan said.

MicrosoftAzure Government, a community cloud platform for U.S. federal, state, and local governments, is now "generally available," according to the company. The product includes integrated services such as compute resources, storage, data, networking and applications, hosted in company data centers in the U.S. The offering provides government customers with hybrid, hyper-scale, enterprise-grade capabilities for use with Microsoft's government cloud, public cloud, or their own data centers.

In addition, the company's Dynamics CRM Online for Government was scheduled for general availability in January. The offering is designed to meet FedRAMP security compliance goals. Dynamics customers will be able to use existing on-premises investments and integrate with Azure and Office 365 government community clouds, Microsoft said.

As an indication of the company's strong marketing efforts in the federal sector, the Azure and Dynamics offerings were a focal point of the company's December 2014 "Government Cloud Summit," in Washington, D.C.
Providers Team Up
Even in the highly-competitive federal environment, some cloud providers are taking pragmatic marketing steps that include joining forces for mutual benefit.
For example, QTS Realty Trust, a provider of data center facilities and cloud services, will make its offerings available to federal agencies through Carahsoft Technology's GSA Schedule 70 contract vehicle.
In addition to carrying QTS' solutions, Carahsoft will support QTS-authorized resellers and sales teams to serve demand within the federal government and state and local agencies. Under the GSA vehicle, QTS will provide an array of services, including custom data center services, co-location resources, and cloud capabilities, QTS said in a January notice.
Among the offerings is QTS' FedRAMP-compliant federal cloud capability that provides a self-managed interface allowing government agencies to control all aspects of their virtual data center while QTS manages and monitors the cloud-based infrastructure, QTS said.
"The physical infrastructure of our federal cloud is separate and distinct. No commercial workloads share the environment. Our cloud service offers a predictable billing model which is critical for federal agencies," Lee Tamassia, director of federal cloud and data center business development at QTS, told the E-Commerce Times.
In early February Accenture Federal Services (AFS) agreed to acquire Agilex Technologies, which specializes in providing IT services for federal customers.
Accenture said the acquisition would bolster its offerings in analytics, cloud, and mobility for federal clients. "Acquiring Agilex will help AFS further solidify our position as an innovative leader in the federal market," said David Moskovitz, Accenture Federal Services chief executive.