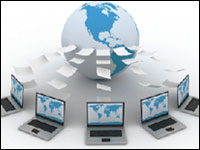 Government information technology procurement has been largely conducted on an independent basis, with each federal agency determining its own needs and acquiring the infrastructure — both hardware and software — to meet those needs. However, the procurement landscape may change significantly with the latest breakthrough in IT — cloud computing.
Cloud technology, it seems, has appeared on the horizon at just the right time. In challenging economic times, and with intense scrutiny of federal budgets, IT expenditures are being closely monitored. The Obama administration's directive that essentially freezes domestic spending is putting pressure on federal agencies to meet growing constituency obligations while keeping expenses under control.
As a result, the cooperative use of IT capacity by federal agencies, versus independent procurement, is being encouraged by the administration. The cooperative element found in cloud computing that gives users the ability to essentially rent computer capacity as one of many "tenants" within an IT structure, rather than spend heavily on owning IT hardware and software, is getting the attention of federal managers.
In addition, cloud computing has the potential for significantly enhancing IT performance within federal agencies — not only to streamline internal operations, but also to vastly improve the way these agencies serve the public.
"Government has the same need for customer relationship management applications, collaboration, customer service centers, case management solutions and software development as the private sector," said Dan Burton, senior vice-president for global public policy at Salesforce.com.
Much as these functions have already been used in the private sector, they can be implemented easily and at much lower cost in the cloud, Burton told the E-Commerce Times.
Cutting Costs, Maximizing Capacity
"One of the attractive features of the cloud is that it is inherently a shared system," noted Sanjeev Bhagowalia, deputy associate administrator for innovative technologies at the General Services Administration.
"So, rather than building and operating a dedicated infrastructure, you can gain very significant economies of scale with multiple users operating from a common platform," Bhagowalia told the E-Commerce Times.
"Also, you can reduce the duplication in capital expenditures among federal agencies by avoiding the costs of having each of them independently spend funds for the same thing over and over again," he said.
While the cost savings in a handful of case studies may seem modest in terms of actual dollars, the relative value in ROI or percentage reduction in costs is impressive. Multiplied throughout the federal government, the potential economies could be enormous. Some examples:
General Services Administration: GSA moved its primary portal, USA.gov, to a cloud-based host. This allowed GSA to deliver a consistent level of access to information as new databases were added, as peak usage periods were encountered, and as the site expanded to encompass more services. As a result, GSA reduced site upgrade time from nine months to one day; monthly downtime improved from two hours to 99.9 percent availability; and the agency realized savings of US$1.7 million in hosting services.
US Army: In a pilot project, the Army Experience Center in Philadelphia, a recruitment operation, adopted a cloud-based CRM tool. The center's managers were seeking ways to utilize a real-time approach, and employ familiar tools and techniques that would appeal to young people. The cloud application allowed the Army to track recruits as they worked with the center. Since the tool integrated directly with email, Twitter and Facebook, recruiters were able to maintain connections with potential candidates directly after they left the center. The Army estimated that a traditional CRM would have cost $500,000. The cloud-based solution was adopted for only $54,000.
US Interior Department: Interior has 80,000 email users widely dispersed around the country and is pursuing a Software as a Service (SaaS) cloud-computing model. Currently, DoI uses more than a dozen different email systems. DoI determined that a single infrastructure would reduce complexity and improve the level of service when it decided to analyze cloud-based solutions. The analysis was compelling: By implementing email using an external commercial SaaS model, DoI found it could provide improved service to its 80,000 users and save 67 percent of its current costs. DoI expects to complete the conversion in fiscal year 2011.
Better IT Load Management
One element of cloud computing that holds great promise for federal agencies is the inherent scalability of the systems. Cloud platform providers absorb all the investment risk in assembling huge IT capacity and then manage that capacity so as to provide ample reserves for all users, similar to the load and distribution management of an electric utility. Thus, when a user needs to scale up quickly, the reserve capacity becomes available. For many federal agencies, better reserve management can yield huge savings.
"Some federal agencies were overinvesting in IT capacity because they never knew when a big surge in demand might come, and they wanted a buffer, but as a result, they normally operated at less than 20 percent of capacity," Darrell West, director of governance studies at the Brookings Institution, told the E-Commerce Times. West authored a Brookings study of the federal cloud computing situation that was issued in April.
On the other hand, an agency without enough capacity can find itself in big trouble. For example, the federal "Cash For Clunkers" program failed under peak load demand. To process the anticipated 250,000 transactions, the National Highway Traffic Safety Administration deployed a customized commercial application hosted in a traditional data center on June 19, 2009. When dealer registrations began on July 24, 2009, demand quickly exceeded capacity, and the system was overwhelmed within three days, leading to numerous unplanned outages and service disruptions.
The program ultimately handled 690,000 transactions — but the lack of an adequate scale-up mechanism delayed processing. System stability was not achieved until August 28, more than a month after registrations started coming in.
One of the chief proponents of cloud technology is Vivek Kundra, the federal chief information officer. Kundra has directed the federal government's cloud computing initiative since its launch in September 2009.
At a July hearing conducted by the House Committee on Oversight and Government Reform, Kundra told lawmakers that the government often mismanages IT investment and deployment. He outlined several corrective measures being taken to improve IT performance. Noting the freeze on federal spending, Kundra described the huge potential for efficiency in cloud technology.
"To do more with less, we need game-changing technologies. Cloud computing is one such technology," he said.
However, Kundra cautioned against viewing the cloud as a panacea, conceding that issues involving data security, operability, and privacy remain major hurdles to full implementation. Rep. Edolphus Towns, D-N.Y., who chaired the hearing, was also cautious about use of the cloud at the federal level.
"Government wide implementation of cloud computing will be a decade-long journey," Towns noted, adding that he hopes the federal government's venture into the cloud is "well thought out, that the benefits and risks are fully examined, and that there are comprehensive plans in place to ensure that we do this the right way, the first time."