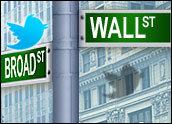 Twitter on Wednesday announced Q4 2013 revenue of US$243 million, up 116 percent year over year, and a 30 percent YoY increase in average monthly active users.
Wall Street reacted by sending its share prices down 21 percent, and analysts promptly downgraded the company.
That could be because Twitter's forecast was less than sanguine: It expects Q1 2014 revenue to decline to between $230 million and $240 million, and adjusted EBITDA to plummet from Q4 2013's $45 million to between $10 million and $16 million.
Further, Twitter's growth has been slowing — it averaged 241 million monthly users, or MAUs, in Q4, up just 3.8 percent from the previous quarter. Its growth rate at the beginning of 2013 was 10 percent.
"Twitter is losing momentum based on the unreasonable expectations that were created for it," Larry Chiagouris, professor of marketing at Pace University's Lubin School of Business, told the E-Commerce Times.
"No company can grow at the rate that it initially grew at, and too many pundits and investors became cheerleaders for it too soon," he continued. "Now they are disappointed, and that has translated into a drop in the stock price."
2 Thumbs Down
UBS downgraded the company's rating to Sell. Analyst Eric J. Sheridan described its stock as "one of the most expensive stocks in our universe," and expressed doubt that Twitter's strong performance can be sustained, given questions raised in the earnings report.
Sterne Agee downgraded Twitter's rating to Underperform, because of deceleration in user growth, decline in user engagement and the stock's "significant premium multiple to its high-growth peers."
Twitter's Q4 revenue increase was due partly to its offering revenue-based ad services, which were largely nonexistent earlier, Chiagouris pointed out.
Breaking Down the Figures
"I think the key is to begin looking at Twitter's Timeline views," Ronald Gruia, director of emerging telecoms at Frost & Sullivan, told the E-Commerce Times.
"You want to use Timeline views to measure user engagement, and users viewed the Twitter timeline 11 million times less than they did in the previous quarter," he explained.
"That's a 7 percent falloff, and that's worrying because it means … less eyeballs, and means the eyeballs looking at Timelines are spending less time on the site and not going in as often, which means advertisers will lose interest," Gruia said.
Further, Twitter is not discussing how many people tried the service and then abandoned it, and that's an important metric, he pointed out. "Twitter CEO Disk Costolo didn't want to answer that question on [Wednesday's] Q4 earnings call."
Recently registered new Twitter IDs number 2.3 billion, according to Twopcharts.
That means just over 10 percent of registered Twitter users are MAUs, and that "doesn't bode very well for engagement," Frost's Gruia pointed out. "The number of inactive accounts is rising."
What Twitter Can Do
"Twitter needs to level set expectations so that these are more grounded in reality," Pace University's Chiagouris said. "In addition, they need to be more aggressive at monetizing the service."
Twitter already has laid the groundwork for more monetization. In addition to deals with American Express and Starbucks, which let those companies' customers use Twitter for purchases, it reportedly is close to signing up payments startup Stripe so it can accept credit card payments from its users.
Twitter purchased mobile ad exchange MoPub last year, to build real-time bidding into the Twitter ads platform.
That may boost user confidence, which is "very important in the short run as it accounts for mood swings that impact stock prices," Chiagouris said. This in turn impacts the deal making Twitter can do, because "Twitter can get more valuable deals and partnerships done if the stock stays up."