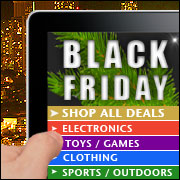 Black Friday falls on Nov. 23 this year, but retailers already have begun to promote the huge discounts they plan to offer in its name. Some deals already are available to shoppers.
Although Cyber Monday has grown in significance, Black Friday "is still significant as the kickoff to the holiday season," said Ray Wang, principal analyst at Constellation Research.
Black Friday sales are no longer limited to brick-and-mortar stores.
For example, Amazon kicked off more than 50 days of "Black Friday Deals" last week, with hot gift ideas in toys, electronics, home goods, kitchen items, dcor and clothing. It will offer free shipping on more than 100 million items.
Walmart announced huge savings on products in various departments. It also unveiled a number of special programs including Early Access, Pre-Black Friday, Online Specials, and Black Friday and Christmas Ad Match.
It has a Dare to Compare section on its website, where it posts the results of all-day price checks.
Sears and Kmart, which are under the same ownership, have decided to discount everything in the store, CNBC reported — possibly an effort to turn around the companies' flagging fortunes.
Sears reportedly will mark down goods 10-50 percent, and Kmart 10-40 percent. Kmart also has decided to bring back its Bluelight Specials, while Sears has revived its holiday catalog.
Other Players
eBay's product discounts extend to a variety of categories, ranging from laptops and smartphones to vacuum cleaners, luggage, sports equipment and power tools.
Costco has announced deals on the Microsoft Surface Pro, laptops, Xbox One, PlayStation 4 and TV sets, among other items.
Dell last week announced Black Friday and Cyber Monday deals including up to 50 percent off on a variety of Dell PCs, Alienware and Dell Gaming and VR systems, monitors, accessories and more.
The Black Friday Siren Song
Black Friday has morphed from a one-day, in-store event to an all-encompassing holiday sale that begins early in November.
Black Friday "was traditionally the time when retailers went from being in the red to into the black," Constellation's Wang told the E-Commerce Times. Many stores have been jumping the gun, announcing Black Friday sales earlier and earlier, so "the retail model of Black Friday has begun to lose its meaning."
Retailers "now extend Black Friday savings for a longer period of time and also leverage Cyber Monday for huge sales," said Cheryl DeGrasse, VP of acquisition at eBates.
"This is particularly the case online," she told the E-Commerce Times.
Up to one-third of all store sales occur in Q4, DeGrasse observed.
Sales are actually offered on various items year-round, but the holiday sales label is only applied in late October or early November, she said.
Black Friday's importance is growing because "there's more emphasis by investors on Black Friday," Wang said.
This Year's Black Friday Bonanza
Spend this Black Friday "will grow from an average of US$495 to $737, or about 49 percent," Wang predicted.
Online SMBs can take advantage of this by identifying buying trends to ensure they stock the right product and inventory, he said. Among his suggestions:
Begin early, to generate demand;
Take pre-orders; and
Set up gift registries.
Offering exclusive one-day deals is another way online SMBs can leverage the Black Friday purchasing frenzy, dBates' DeGrasse said.
The Impact on Christmas
Black Friday sales won't dampen Christmas sales, eBates' DeGrasse predicted. "In fact, the earlier consumers start shopping, the more they end up purchasing."
However, the impact of Black Friday on Christmas Sales "depends on door busters and discounts," Constellation's Wang noted. "It also depends on blockbuster gifts, such as a new game console or device."