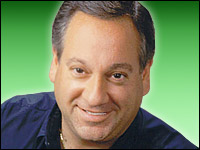 Taxes on all of the great new tech we just got? I was a guest on the Fox News show "Your World with Neil Cavuto" on Monday, and Brian Sullivan asked me about all the new taxes we better get ready for on all of our new holiday gifts. That's right. We better get ready for taxes galore.
In fact, it's worse than we think. Instead of just one set of taxes, if you download a program from one state and you live in another state, both states may tax you for the same thing. That's right, soon we may be paying enormous taxes.
That's right. Double jeopardy. Could it get worse? It could. If they can think of a way to do it, even more states may jump into each sale.
Maybe if you live in New York and you download something from Florida, you will have to pay taxes on every state in between since the signal traveled over lines through states. Maybe they could call it a "pass-through" tax. Doesn't anyone see we are getting carried away here?
Maybe you got an iPad, one of those cool new tablet computers, or maybe a smartphone, or one of those cool new e-readers. You were happy to just sit there and try to figure out how the darn thing worked. Log on and look through all the cool new programs you could download. Thoughts of how much it was going to cost you going forward weren't even dancing in your head yet.
All Things Bright and Taxable
Before you think the government is getting carried away, think about the changing industry. The lawmakers may have a point… to a point, anyway. They always charged taxes on phone lines. So many people bought so many phone lines in the 1990s, the government loved it.
Then, as high-speed DSL lines came, people canceled the extra lines they used to dial in on the computer. The number of local phone lines has been decreasing. People are using cellphones, VoIP and cable television phone service.
Not only do the phone companies hate this trend — so do government officials. Fewer phone lines mean less in taxes. This is a trend that is growing, so they need to figure out how to solve the problem.
We have been fighting taxation on the Internet for a decade or longer. Today, we pay more taxes on it than ever, but we're still not where the government wants us to be. Lawmakers want to tax everything that is new and exciting. Not just the Internet, but all the new technology that we just love.
Enough Already
That means every time you buy something over the Internet, the federal and state and local governments want a piece of the action. Same with devices. That means new taxes on everything we buy will start popping up.
Not only that, but every state and local government is thinking about taxing. That means multiple taxes. I have read that means we could be paying 20 percent or more in taxes. That's incredible.
Taxing the Internet is bad enough. Double taxing from multiple states and local governments is worse. And taxing everything else that is new — like iPads, smartphones and e-books — is over the top.
I think we all understand the government needs to update itself and stay with the times. OK, maybe it needs to make up for lost phone lines, but it shouldn't cross over the line and get so greedy that it chokes off commerce. That could happen, if we are not careful.
The question we discussed on Fox News was right on target. Taxing is part of our society. We need police, firefighters, roads paved, military ready and many other tax-supported services as well. But at some point we have to ask, when is enough, enough? Someone has to say "stop."
---
Jeff Kagan
is an E-Commerce Times columnist and a wireless, telecom and technology analyst, author, speaker and consultant. Email him at
[email protected]
.