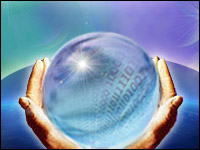 We are now living during a wave of social change, and we will not know how the Internet has affected society until we look back on it in the future. A great example of this: When Alexander Graham Bell obtained his patent for the telephone in 1875, no one could have foreseen that a lawyer from Texas could make a cellphone call from the Great Wall of China in 2005, but I did!
In 2014, everyone expects to be able to make cellphone calls from just about anywhere on the planet.
25 Years of the Web
The Pew Research Center earlier this year published a report entitled "The Web at 25 in the U.S." That report marks the 25th anniversary of the creation of the World Wide Web by Sir Tim Berners-Lee.
Lee published a paper on March 12, 1989, proposing an "information management" system, which became the conceptual and architectural foundation for the Web. He released the code for his system to the world — for free — on Christmas Day in 1990.
It became a milestone in easing the way for ordinary people to access documents and interact over a network of computers called "the Internet" — a system that linked computers and had been around for years. The Web became especially appealing after Web browsers were perfected in the early 1990s to facilitate graphical displays of pages on those linked computers.
The Pew Report differentiates between the Internet and the Web. Pew describes the Web as "a service that uses the Internet's architecture and … technologically distinct from some other internet functions such as email and peer-to-peer file sharing."
Where Will the Internet Be in 2025?
Pew last month issued another report, canvassing "2,558 experts and technology builders" who "predict the Internet will become 'like electricity' — less visible, yet more deeply embedded in people's lives for good and ill."
The demographics of the 2,558 were not random. Pew selected the individuals, many of whom remain anonymous. Eighty-four percent were from the U.S., and 16 percent from other venues around the world. Participants identified themselves in the following categories:
19 percent as research scientists;
9 percent as entrepreneurs or business leaders;
10 percent as authors, editors or journalists;
8 percent as technology developers or administrators;
8 percent as advocates or activist users;
7 percent as futurists or consultants;
2 percent as legislators, politicians or lawyers;
2 percent as pioneers or originators; and
33 percent as "other."
Pew quotes my views on the Web and education in "The Web at 25 in the US – Digital Life in 2025," issued March 11, 2014, on page 40:"The greatest social change between now and 2025 will be to raise the educational standards for people regardless of their locale. The Internet has already proven to be a great educational tool, and such wonderful bodies of information such as Wikipedia allows individuals to share their collective wisdom with other people. Also the increased use of Massive Open Online Courses will allow brilliant educators to share their messages to global audiences."Pew's Digital Life in 2025 reports these 15 themes or scenarios about the digital future in 2025 based on its survey of open-ended questions about the Internet:
Information sharing over the Internet will be so effortlessly interwoven into daily life that it will become invisible, flowing like electricity, often through machine intermediaries.
The spread of the Internet will enhance global connectivity that fosters more planetary relationships and less ignorance.
The Internet of Things, artificial intelligence, and big data will make people more aware of their world and their own behavior.
Augmented reality and wearable devices will be implemented to monitor and give quick feedback on daily life, especially tied to personal health.
Political awareness and action will be facilitated and more peaceful change and public uprisings like the Arab Spring will emerge.
The spread of the 'Ubernet' will diminish the meaning of borders, and new 'nations' of those with shared interests may emerge and exist beyond the capacity of current nation-states to control.
The Internet will become 'the Internets' as access, systems, and principles are renegotiated.
An Internet-enabled revolution in education will spread more opportunities, with less money spent on real estate and teachers.
Dangerous divides between haves and have-nots may expand, resulting in resentment and possible violence.
Abuses and abusers will 'evolve and scale.' Human nature isn't changing; there's laziness, bullying, stalking, stupidity, pornography, dirty tricks, crime, and those who practice them have new capacity to make life miserable for others.
Pressured by these changes, governments and corporations will try to assert power — and at times succeed — as they invoke security and cultural norms.
People will continue — sometimes grudgingly — to make tradeoffs favoring convenience and perceived immediate gains over privacy; and privacy will be something only the upscale will enjoy.
Humans and their current organizations may not respond quickly enough to challenges presented by complex networks.
Most people are not yet noticing the profound changes today's communications networks are already bringing about; these networks will be even more disruptive in the future.
Foresight and accurate predictions can make a difference; 'The best way to predict the future is to invent it.'
Many of these insights are predictable, but no one will really know until 2025 how realistic the survey results really were. Of course, many of us look forward to seeing how things turn out.