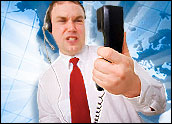 What are you thankful for? Me… I am very thankful that this year's Election Day is finally over! Why? So I can get some peace and quiet in my life once again. I don't know about you, but my phone has been ringing constantly for weeks, and every call has been a political call. All I can say is… ENOUGH ALREADY!
I am so happy this election had clear victors. The reason is simple. If it were close, then we'd have to go through another annoying period of political calls interrupting our lives. We can all breathe a sigh of relief.
What's Good for the Goose
I understand elections are important. They help us direct the flow of our government and our lives.
However, every election becomes so darn distracting — and year after year it gets worse.
In the weeks leading up to this week's election, most of us received dozens and dozens of recorded calls from governors, members of Congress, actors, and in fact anyone with a brand name. This campaigning is getting abusive. Something has to be done.
I understand this is not illegal. I understand this is a way for people running for office to get elected. I understand it is a great way to inform voters of issues. What I don't understand is why this has to be so damn intrusive and distracting to us, election after election.
Why is it wrong when others invade our privacy over the phone like this, but the same practice is OK for politicians? Why don't we demand our politicians and lawmakers protect us from this invasion of privacy?
The reason is simple. The lawmakers won't cut off their own right arm. This is how they reach us, and they aren't going to get in their own way.
It's like when members of Congress vote for their own pay raises. After all, do we really expect politicians not to vote for their own pay increases? Of course not!
I think if politicians can vote themselves a raise, we should be able to do the same thing. It's only fair, don't you think? I think if politicians don't have to be forced into Obamacare, the rest of us should have the same out if we choose, right?
So why can't we get the same perks as our politicians? The reason is because they write the rules. What this actually means is the whole political system seems very unfair and even abusive to the average American.
Breathing Space
Back to these annoying calls. All these distracting political calls are simply trying to convince us to vote for a certain candidate or issue.
OK, I understand. However, I also understand this is America, and we should have the freedom to choose whether to be interrupted or not.
There should be two different call lists. One for people who don't mind being called and the other for people who opt out. Many already know what they are going to do on Election Day. If these would prefer not to get bombarded with calls every stinking election day, it should be their right, don't you think?
After all, who do these people in government think they are, anyway? Why do they think it's OK to invade the personal space of every American? What gives them the right?
We should be able to opt out of all this craziness. I know all these calls are legal, but this is getting out of control. It is also being abused and is getting worse year after year.
All I can say now is thank goodness the Republicans swept this election, if for no other reason than all this craziness will end and we can finally get back to our lives, business as usual.
At least for the next year and a half before we get back on this crazy ride once again.