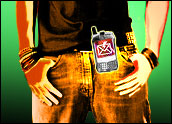 A turf war is going on in the mobile applications market as various companies try to carve out a foothold.
The players include handset vendors such as RIM, Palm, Apple, LG and Samsung; mobile operating system developers like Google with its Android platform; software vendors such as Microsoft; and wireless carriers including China Mobile, Verizon and AT&T.
Several of them have launched competitions to lure application developers to build apps for their app stores.
Apple, with more than 100,000 apps in its iTunes App Store, currently dominates the market. However, things might change with the entrance of some real giants to the game.
One of these giants is the GSM Association (GSMA), members of which are carriers and vendors using the GSM wireless communications standard. They constitute about 80 percent of the global mobile market. Members include AT&T and China Mobile, the world's largest mobile carrier in terms of subscribers.
Another giant is the Joint Innovation Lab, set up jointly by China Mobile, Softbank and Vodafone, the parent company of Verizon Wireless, in April of 2008.
Drawing In the Developers
Participants in the mobile apps turf war are using various means to draw app devs over to their platforms. In October, Samsung launched a contest which runs through Dec. 10 for the development of apps on its Omnia II platform. Two winners will receive US$100,000 each in prize money. Another $130,000 in prize money will be handed out to other participants.
Google, Microsoft and RIM have also held competitions to attract app devs.
The GSMA and the Joint Innovation Lab are using the lure of their size. There are more than 4 billion global GSM and 3GSM mobile connections worldwide, according to the GSMA's Web site. The Joint Innovation Lab, meanwhile, has drawn support from other major players in the wireless communications arena, including arch-rival Korean smartphone handset manufacturers LG Electronics and Samsung. It also includes RIM and Sharp. Its members have about 1 billion users; more than half of them come from China Mobile.
The GSMA's market opportunity is enabling mobile app portability. Users who switch mobile carriers often can't take their mobile apps with them because of the proliferation of disparate mobile app platforms, and the GSMA reportedly feels they should be able to do so.
Standardization is the Joint Innovation Lab's theme. It aims to create a set of standards for mobile applications, starting with a global platform for mobile widgets. That vision of global widgets will take some time to fulfill, Tole Hart, a research director at Gartner, told the E-Commerce Times. "It's starting to happen, but it will take at least three years to become commonplace," he explained. "Apps are essentially widgets that send you to a browser or to a mobile Web site."
Looking at the Platforms
The competition may have even Apple feeling the heat. After the well-publicized news that a prominent developer would no longer create apps for the iTunes App Store, other devs spoke up about how they're happy to remain working on iPhone apps, stating there just isn't enough money in developing apps for the Android platform.
Nevertheless, the Android platform seems to be doing well enough. Apart from Google's own developers, there's the Conexus Mobile Alliance, a group of operators throughout Asia. Earlier this month, Conexus selected the 13 finalists for its Android application development program. An open handset platform such as Android is key to boosting mobile data usage in the Asia-Pacific region, according to Alliance Chairman Dr. Kaizad Heerjee.
China Mobile is supporting Android in a roundabout way, using Android as the model for its own operating system — the Open Mobile System. The Chinese carrier kicked off a 3G app development competition when it launched its own mobile apps store in August.
"Apple has been the leader, but I think Android will also do very well," Gartner's Hart said. Apps for the Blackberry should also have a healthy market, while Nokia's Ovi store should do well outside the U.S., Hart added. "Games, browsing, search, and location features will be more ingrained in more apps," Hart said. "Communities, productivity, news, sports and weather will also do well, I think."
The Lure of the Loot
Blame the app wars on money — revenues from mobile apps in the United States alone will exceed $4 billion in the next five years, according to the Yankee Group. This is roughly 10 times the 2009 figure of about $342 million. U.S. consumers alone will download 1 billion apps this year, the Yankee Group estimates. That figure will grow to 6.7 billion in 2013.
That kind of money is not to be sneezed at. "At the higher level, handset vendors recognize that mobile app stores represent a new revenue opportunity for them," said Julien Blin, CEO and principal analyst at JBB Research.
However, carriers will likely dominate the mobile apps market, Blin told the E-Commerce Times. "The carriers already have the relationships with the content providers and app developers," he pointed out. "So it makes sense for them to revamp their existing storefronts into mobile app stores."
The growing success of carriers might lead to battles with Apple, Blin pointed out. "Once more carriers begin rolling out their own app stores, you might see some conflict of interest," he explained.
Looks as if the mobile app wars will continue for quite awhile.