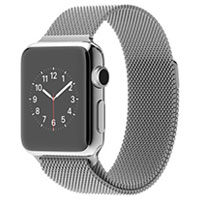 The wearable technology marketplace is already in place and growing. Now, enter the Apple Watch. Although it will speed up growth, this new space will be very different from the iPhone and iPad markets.
Large companies like Google, Samsung and Sony, and smaller companies like FitBit and others have already thrown their hats into the ring and seen limited success. Apple did not create the wearable marketplace, but it has just poured some gasoline onto the growth fire.
Anything introduced by Apple has the potential to upset the status quo and really accelerate market growth. However, that outcome is not guaranteed. Whether customers are as hot for wearables as Apple hopes is still unknown.
Apple's entry will make a difference, but it will not transform the wearable space overnight.
Oh, the Things Apps Can Do
Apple now can chalk up huge wins in the smartphone and tablet markets, but when it launched its first iPhone and iPad, it did not see immediate rapid growth. It took several years to build momentum.
The same thing likely will happen with the Apple Watch. It will be a success — regardless of how many devices sell in the near term. The first generation will have limited apps and features. Both apps and feature sets will increase over time, making the Apple Watch valuable to more users.
Early adopters will form the vanguard. There is always a core of Apple enthusiasts who are interested in whatever is new, even though they know it won't work as well and won't have as many uses and apps initially as it will down the road.
Over the next year or two, as more companies develop apps, the Apple Watch and the entire wearable segment will grow.
Smartwatch apps can let you check your email or messages. They can let you access the Web, and some let you take or make phone calls. They can monitor some of your vital signs and help keep you up to speed regarding your health.
Wearable technology will let you use a smartwatch instead of a credit card to pay for a coffee at Starbucks — and make a whole lot of other purchases — as well as unlock doors or start cars.
Of course, we can do many of those things already with our smartphones. What, then, is unique about the Apple Watch or any other smartwatch?
Rising Tide Lifts All Boats
Although that question may not be answered immediately, the wearable marketplace will continue to grow, and that growth will undoubtedly be accelerated by the Apple Watch. That said, I don't see everything changing overnight.
After all, Apple did not create the wearable space. It is not the first — in fact it is rather late. No one company owns the wearable market at this point. It is still wide open for large and small competitors.
Whether the Apple Watch ends up dominating the wearable space is still a big unknown. In the meantime, Apple's entrance is sure to stir interest, which could benefit every player in the market.