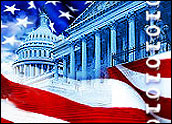 The political spotlight in Washington was on congressional approval of the 2015 budget before legislators broke for the holidays, but a less volatile proposal also was passed in the closing days of the session — one of considerable importance to the information technology sector.
For information technology providers, final approval of the 2015 budget legislation earlier this month provides some stability for the funding of IT equipment and services. With the exception of the Department of Homeland Security, all agencies will be fully funded through the fiscal year ending on Sept. 30, 2015, thus avoiding the uncertainty of using a series of stopgap measures. DHS will be funded only through Feb. 2015 as a result of policy differences related to immigration.
In addition to the budget, Congress approved the Federal Information Technology Acquisition Reform Act, or FITARA, which technically was rolled into the National Defense Authorization Act of 2015. FITARA focuses largely on the role of federal chief information officers and addresses other IT issues.
Who's in Charge?
All major federal departments and agencies currently have a CIO, but the ability of CIOs to comprehensively manage IT, especially from the standpoint of acquisition and contracting, has been a vexing issue for agencies and vendors alike.
"Specifically, CIOs do not always have sufficient control over IT investments, and they often have limited influence over the IT workforce, such as in hiring and firing decisions and the performance of component-level CIOs. More consistent implementation of CIOs' authority could enhance their effectiveness in these areas," notes a 2011 General Accountability Office report.
Existing law under the Clinger-Cohen Act addresses the role of the CIO, but OMB provided substantial leeway to agencies and departments for implementing the law, often resulting in weakening the effectiveness of the office.
"If you are not going to give CIOs the authority to do what they need to do, then why do you need a CIO?" asked Sen. Tom Coburn, R-Okla., at a 2013 hearing.
FITARA gives civilian CIOs much more authority over the budget, governance and personnel processes for agency IT investments. Under the law, federal agencies will be required to extend a "significant role" in the decision processes "for all annual and multi-year planning, programming, budgeting, and execution decisions, related reporting requirements, and reports related to information technology, and the management, governance, and oversight processes related to information technology."
It does not address Defense Department IT management in the same fashion as civilian agencies.
The law also provides that during the Office of Management and Budget's annual IT capital planning process, civilian agency CIOs will be empowered to approve the IT budget requests of their respective agencies. CIOs will be required to certify that information technology investments are adequately implementing incremental development.
Importantly, FITARA prohibits civilian agencies from entering into a contract or other agreement for IT, including services, unless the transaction has been reviewed and approved by the CIO. This stipulation significantly changes the current situation in which the role of CIOs in actual contracting is often limited, or subordinated to program managers or contract officials.
"The single best element of FITARA will be the impact we anticipate the bill to have on leadership. With greater authority over budget and procurement planning, agency CIOs will be empowered to address challenges that have led to costly, underperforming IT programs and networks," said Anthony Robbins, vice president, federal, at Brocade.
Restoring and improving the direct IT investment and management role for the office of the CIO is the most significant component of the bill, according to Trey Hodgkins, senior vice president, public sector, Information Technology Industry Council.
"Industry and government agree that a strong indicator of IT investment and management success is the level of senior engagement and support for the program. The FITARA language strengthens the role of the CIO, ensures a seat at the table for the investment and management decisions of their agency or department, and elevates the position to have more direct access to agency leadership," Hodgkins told the E-Commerce Times.
While the language of the new law is fairly specific, government-wide implementation of FITARA will be the task of OMB, noted Gartner's Katell Thielemann, research director, vertical industries-public sector.
That could be problematic.
"Bills are important in setting the stage from a legislative standpoint, but the devil will be in the details around implementation. In order for the bill to be effective, OMB will need to step up quickly to clarify how it interprets the bill, how it expects agencies to react and behave as a result, and how it will monitor progress," Thielemann told the E-Commerce Times.
"Just saying to agencies that 'Congress decided that your CIOs are now in charge of IT — figure it out' would create as many implementations of FITARA as there are agencies and subcomponents, particularly in large distributed organizations, and would do little to drive true reform," she said.
Better Agency Staffing Promoted
Another significant element of FITARA that is of prime interest to IT vendors is a provision designed to bolster the quality of federal IT personnel. The act includes measures for "developing, strengthening, and deploying information technology acquisition cadres consisting of personnel with highly specialized skills in information technology acquisition," including program and project managers.
A goal of that provision is to promote longer terms of government service to counter the negative impact of high rates of turnover in CIO ranks.
"An important byproduct of the bill will hopefully be to attract and retain leadership talent. Developing professional CIOs with a key seat at the table will hopefully help establish technology and management leaders who can transcend the current revolving door trend and survive political whims. This will be increasingly important as we edge toward an upcoming generation of CIOs who are digital natives raised in a consumerized IT world," said Thielemann.
In addition to the CIO provisions, the FITARA law addresses other federal IT management issues:
Transparency and Risk Management: Requires agencies to ensure that IT investments will be more transparent to the public and 'troubled investments' are properly reviewed.
Government-wide Software Purchasing: Requires development of an enhanced government-wide software purchasing program that agencies may use to lower acquisition and management costs.
Monitoring: Requires agencies to annually review all of their IT investments to eliminate duplication and waste. For example, in fiscal year 2011 budget submissions, agencies reported 622 separate investments totaling US$2.4 billion in human resource management systems, and 580 investments totaling $2.7 billion in financial management systems.
Data Center Consolidation: Requires more than 9,000 federal data centers to be consolidated and optimized to achieve greatest usage, efficiency and cost savings as recommended by GAO.
Strategic Sourcing: Requires proper consideration of the Federal Strategic Sourcing Initiative (FSSI) by contracting personnel to encourage the government to utilize enterprise-wide contracts that leverage the purchasing power of the entire federal government.
As welcome as the reforms are to the IT sector, industry representatives largely viewed them as only the beginning of more comprehensive updating of federal IT management in light of rapidly changing innovations in technology, and the fact that the Clinger-Cohen Act dates back to 1996.
FITARA "is a great start to improving the federal IT acquisition process, and has the potential to open the door for stronger leadership and provide CIOs with the resources they need to innovate," Robbins told the E-Commerce Times.
The law addresses and codifies solutions that affect "a number of challenges that exist in the federal procurement and acquisition process," Hodgkins noted, "but there are many additional challenges that remain for action in the next Congress.We anticipate this discussion will continue."