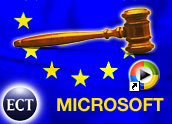 An tech industry organization advocating interoperability has asked a European court to allow it to join the European Commission (EC) in defense of its antitrust decision against Microsoft.
The five-member group, made up of IBM, Nokia, Oracle, RealNetworks and Red Hat, goes by the name European Committee for Interoperable Systems (ECIS). It filed a request yesterday with the European Court of First Instance to intervene in the case.
Broad Spectrum of Tech Industry
"The ECIS application demonstrates that a broad spectrum of the technology industry is concerned about the impact of Microsoft's illegal conduct on innovation in digital media and beyond," RealNetworks Deputy General Counsel Dave Stewart told the E-Commerce Times via e-mail.
"RealNetworks supports the European Commission's efforts to require Microsoft to release a fully functioning, unbundled operating system and to take all appropriate steps to ensure the effectiveness of its historic decision," he added.
Missed Deadline
However, since the deadline for becoming an intervenor in the case expired last December, approval of the group's request is in doubt.
Asked what the chances were that the court would approve the ECIS application, EC spokesperson Jonathan Todd, in Brussels, Belgium, told the E-Commerce Times, "It's up to the court to decide."
Microsoft — although appealing last year's EC ruling under which it was fined US$642 million for abusing its monopoly status in the marketplace — earlier this year began complying with EC orders by releasing a European version of its Windows operating system without its media player and licensing some information protocols.
Microsoft Allies
In its appeal of the EC decision, Microsoft has garnered support from the Association for Competitive Technology; the Computer Technology Industry Association; Exor, of Sweden; TeamSystem, of Italy; and Mamut, of Norway.
"We're pleased to have a large number of European companies supporting our position, a number of whom are participating as intervenors on our behalf," Microsoft spokesperson Tom Dresler told the E-Commerce Times.
Dresler explained that intervenors can participate in the court process, file briefs in the case and present oral arguments to the justices.
Matt Rosoff, an analyst with Directions on Microsoft in Kirkland, Wash., explained to the E-Commerce Times: "Unlike the U.S. court system, interim decisions and documents are not public. So if you're an intervenor, you get access to documents."
Wheeling and Dealing
He noted that Microsoft has undercut support for the EC's decision by cutting deals with individual vendors. "Microsoft reached a private agreement with Sun [Microsystems], so Sun dropped out of the case," he said. "And it reached a private agreement with Novell, so Novell dropped out of the case."
"I think what this group is doing today is saying, 'Hey, there are still some competitors who think the EC's decision was good and want to support that decision," he observed. "It's public positioning for a long court battle."
Microsoft's Dresler argued that the EC's sanctions will have consequences beyond punishing Microsoft.
Stifling Innovation
"The decision will stifle innovation and set some precedents that we think will be bad for the industry," he said.
He contended that the decision establishes a precedent for compulsory licensing of technology. "That could have an impact on incentives for innovation," he said.
In addition, Dresler asserted that the public will be hurt, not helped, by Microsoft being forced to offer different versions of Windows. "It can create consumer confusion and create difficulties with European Web sites, as well as with European developers," he explained.
Decision Years Away
Analyst Rosoff maintained that Microsoft is concerned about the long-term precedent of having a governmental body force it to do something to its core product. From Microsoft's point of view, he explained, it "owns Windows and it doesn't make sense that a government body should dictate design points in it."
Microsoft also has intellectual property concerns about the EC decision, he added. "It doesn't want what it views as its intellectual property to go into a general public-type license, a GPL-type license, where it can be freely shared," he said.
"I don't know how the court will decide this," he observed, "but it's going to take several years to decide. It's not going to be an overnight thing."